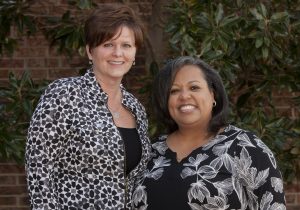 With it being a new year, many people are looking for ways to jump-start something new and need guidance to make it happen," said Kristin Clark, a Gallup-certified strengths coach.
She and Madlin Mangrum, another Flower Mound resident, host Women's "What's Next" weekend retreats in the area.
They help women get through times of change in their lives– divorce, empty nesting, loss of a job, starting a new career or a desire to make their current situation better– by guiding them through goal-setting and using their natural talents, based on the CliftonStrengths 34 Assessment test.
Strengths Finder, a self-help book written in 2001 by Marcus Buckingham and Donald O. Clifton, is the basis for the internet-based "Clifton Strengths Finder;" an online personal assessment test that outlines the user's strengths. The authors advocate focusing on building strengths, rather than focusing on weaknesses.
The theory behind the book is that each adult individual possesses a certain number of fixed universal personal-character attributes– or traits– defined by the authors as "talent themes," which, combined, result in an individual's tendency to develop certain skills more easily and excel in certain fields in a sustainable way.
The Gallup Organization claims to have distilled the trait theory into practice by interviewing 1.7-million professionals from varying fields. Having quantified the different traits of the people they interviewed, they came up with 34 distinct patterns, or "talent themes," that best-describe the range of human uniqueness observed from their research.
According to "personality trait" theories, like the Gallup Organization's CliftonStrengths 34 assessment, for example, introversion and extraversion are part of a continuous dimension; with many people in the middle. Personality traits could be interpreted as quantitative differences, embodying a smaller-grouping of behavioral tendencies.
Many people have taken other assessment tests, such as the Myers–Briggs Type Indicator (MBTI), an introspective self-report questionnaire with the purpose of indicating differing psychological preferences in how people perceive the world around them and make decisions.
It's used in corporate Human Resource Departments to assess a person's personality type, based on a total of 16 categories. It uses psychologist Carl Jung's conceptual theory that humans experience the world using four principal psychological functions – sensation, intuition, feeling and thinking; and, that one of these four functions is a dominant type for a person most of the time.
These "personality type" assessments involve qualitative differences between people. According to type theories, for example, introverts and extraverts are two fundamentally different categories of people.
"After I took the CliftonStrengths 34 test myself (March 2017), it was so revolutionary for me that I had my family take the assessment test, too," said Mangrum. "It gives a person words to describe individuality.
"One of my strengths is relationships, yet I'd been unable to connect with my son. It turns out, he's like his father; analytical, which I'm not. Now we have a way to talk to, and better understand– each other."
Worldwide, 20-million people have taken the CliftonStrengths 34 assessments, with only 12,000 certified coaches. The Gallup Organization goal is to have one-billion test-takers and one-million coaches.
"I ran a marketing department for 20 years and I met someone who took me through my strengths– I'm an arranger and an activator to encourage others," said Clark. "Within three months I was certified, which isn't typical. I set that goal and it was my focus to devote the time exclusively for the in-person instruction and testing and other certification requirements."
The Gallup group's web-based assessment questionnaire reveals the test-taker's top five themes, based on the "Clifton Strengths Finder." Choose either the 34 Strengths test (recommended) or the Top 5 Strengths test: gallupstrengthscenter.com/store/en-us/assessments.
The Women's "What's Next" weekend retreats, hosted by Clark and Mangrum, use the resulting individual Strengths Insight Report to address each participant's Top 5 CliftonStrengths.
Information and sign-up for the next upcoming Women's "What's Next" Retreats– Feb. 15 to 17 and March 22 to 24– is available at: madlinmangrum.com/retreats/vff-vision-retreat/.
"Our focus is to help women looking for clarity and what's next in their life," said Clark and Mangrum.