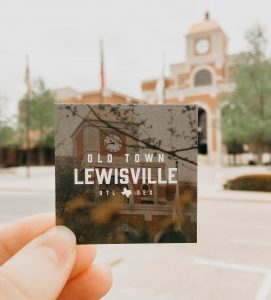 The Main and Mill Business Association has teamed up with ArtLab3000 to create an 840 square foot mural illustrating a celebration of Lewisville's rich heritage through music, community and Texas nature.
The mural spans the entire exterior wall of Beside the Bride, 125 North Mill St. and will be unveiled at a special ceremony starting at 5:30 p.m. on Feb. 12, followed by a reception with light bites, spirits and local entertainment, according to a Main & Mill news release.
The mural is just one development of a larger initiative for MMBA to continue beautifying Old Town Lewisville. It was was commissioned by ArtLab3000 artists Melanie Little Gomez and Des Smith, out of Denton, Texas.
"The Association wanted a welcoming mural that said something about this arts and entertainment district and the history of Lewisville," the artists said. "We chose to go with the period around the turn of the century when the town was just at its beginnings. We are animal lovers and chose to use animals instead of humans to represent the true founders of the town; after all, they were the first to call it home. All of the animals are Texas natives, minus one … and many of the animals are endangered."
Gomez is a Texas native and graduated from Texas Woman's University with a BA in Photography. Smith is a sculptor and experienced public artist with a BA in Fine Art Sculpture from Duncan of Jordanstone College of Art, Dundee, Scotland. He received a Master of Fine Art Sculpture from The New York Studio School of Drawing, Painting and Sculpture. An example of their work is located outside of J2 Steakhouse in Old Town Lewisville, and other murals can be found in the Dallas uptown area and on the square in Denton.
Funding for the mural was made possible through the Association's annual Shared Table fundraiser.
"The Association wanted a lot of color to brighten up the space and bring people in," Gomez said. "Before we were even close to finished, people saw all the color and pulled over to come take a look (and a photo or two). We want everyone who sees the mural to smile. The times we live in are strange times and if we can add anything positive to someone's day, we hope at least we can add a smile."