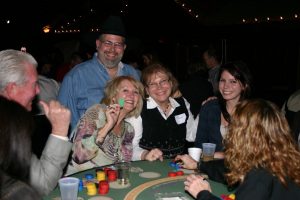 Tickets are now available for the Summit Club of Flower Mound's annual Western Saloon & Casino Night event.
The event will feature gambling, barbecue, live music, dancing, drinks, a silent auction, a photo booth, door prizes and more at the Circle R Ranch on March 2, according to the Summit Club's website. More than 300 people are expected to attend in their best western attire.
There will be 14 blackjack tables, four poker tables, two roulette tables, two craps tables and six slot machines.
The event benefits the Flower Mound Police and Firefighters Associations, and other local charities. A single ticket gets you $1,000 in chips, a barbecue buffet, two adult drinks, a raffle ticket and unlimited soda, coffee and iced tea for $75 in advance or $80 at the door. A pair of tickets are available on the Summit Club's website for $130.
Sponsorships are also available, starting at $1,000.