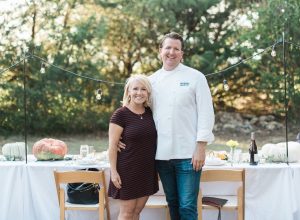 What do a former professional cyclist turned executive chef and a DFW talk show host have in common? Their common bond of loving food, especially from farms and ranches in their native Texas, and eventually each other, became their attraction and passion.
It all started in 2014 on The Broadcast, a DFW version of The View that Amy Kushnir co-hosted with three other women on KXTD-TV in Dallas.
At one time, Kushnir also had a home-cooking website called MyTexasToday.com, demonstrating cooking for two years on an early WFAA-TV morning show, worked on the station's Saturday morning news and Daybreak team and had a cooking segment on 95.9 FM The Ranch.
Garth Blackburn was an executive chef for the show's sponsor, a local Sub-Zero, Wolf and Cove appliance store that had erected a kitchen for cooking segments by major area chefs, including him.
Their on-air camaraderie prompted the station to ask them to host a cooking show called Taste Texas, on which they visited and promoted food produced by families across the state. They taped 52-episodes at studios and Blackburn's business with repeat showings airing until this year.
About then they also launched their Uptown Farmhouse concept (uptownfarmhouse.com) where they host private dinners now at their homestead just north of Argyle and at other places throughout the Metroplex. They also help home sellers with on-site food and/or cooking demonstrations at open houses.
"We love Texas, so we're big on promoting and supporting Texas farms and ranches," Blackburn said.
"We just have a deep love for Texas and for farmers," said Kushnir, a Dallas native and seventh-generation Texan, who previously lived in Flower Mound. "We feel like the farmers don't get enough recognition.
"So honestly, what we're doing is bringing awareness to people who love Texas like we do– and who enjoy eating like we do– to learn where this is coming from and the people who grow it. Most of them have really interesting stories."
Kushnir grew up around family who loved to cook and shared their recipes. Blackburn has spent much of his career as a chef in restaurants and the corporate world, after learning about various cuisines from his time visiting 30 countries as a professional cyclist.
"For me on the taste side, it's that groceries have by and large been made a commodity item, where there's no differentiation in quality from produce to meat to seafood to you name it," he said. "For so many years you go to the grocery store and you buy green beans. You don't know where they're from, you don't care where they're from. It's the same way when you buy beef. You go to the grocery store, you don't ask where it's from; you just buy the beef.
"Where the reality is, there's a significant taste difference, texture difference and nutrient difference– not just for vegetables, but fish and meats and poultry."
At a recent dinner on their property, they served food from 15 farms and ranches, to 25 people seated in the barn that used to be a large shed. When it's not raining, they can host 50-60 people, including seating in their yard. They focus on the people behind the food– with quality outranking quantity as they bring the city to the country.
"The Uptown Farmhouse dinners we've kept to around 50, but we're looking to add on," Kushnir said. "The vision is to extend the table. We're just going to add more seats to the table, because– the way we see it– everyone's welcome. If you want to come we've got a seat for you.
"It's such an experience. If you really think about a community coming together sitting at a long table. We come together all the time at (Bartonville's) Marty B's or other restaurants, but we're sitting in different spaces having intimate conversations with our loved ones, normally. But, this is a whole different idea. It's putting an entire community at one table."
Blackburn has cooked food for gatherings of as many as 1,100 people for the American Heart Association; and, together the couple has organized many events with hundreds of people.
"It's awesome to see folks who return again and again; who met people at the table and are now out on their own and become best friends," he said.
"And when they call and make reservations for the next dinner, they ask to be seated with their new friends; and, then they meet new, new friends and it's becoming one long table of community," Kushnir said. "People have gotten to know one another by being open-minded and sitting across from someone you may not know and embracing this food and the knowledge that we're sharing about the farmers and ranchers that grew it in our state."
Kushnir and Blackburn conduct about one farmhouse dinner each month at their place, plus additional pop-up events elsewhere. Seats generally run $95 plus tax, with guests allowed to bring their own alcohol. Anyone who goes home hungry, it's their own fault. In fact, most people take home food.
"We believe everybody leaves full and happy," Kushnir said. "Somehow we're able to accomplish that. It's fun, but a lot of work."
People from as far away as Oklahoma and Houston– and points in between– have enjoyed the hospitality and food presented by Kushnir and Blackburn. Many learned about Uptown Farmhouse through social media.
"And honestly, it's not a big moneymaker for us," Blackburn said. "Actually, we've had a dinner or two where we've lost money. I decide the menus in the weeks before, based on what the farmers are telling me. We deliver the menu to the guests and, if some fluke-of-nature situation happens for some of these small, local places, it can increase costs by 50- to 100-percent, so we have to roll with it. It's a labor of love and we love the labor."
"Seeing people light up and make new friends and laughing, having a good time and exchanging cards and numbers and saying 'let's get together' I'm thinking 'mission accomplished,'" Kushnir said. "It's fun, people had a great time and made new friends and we've made new friends."
Their ultimate goal is to open a much larger venue in Denton County, featuring everything from cooking classes to private functions to group gatherings to weddings with quality food made onsite, rather than catered in.
It's a concept Blackburn said doesn't exists right now. Aided by a small number of investors who believe in what they want to do, they hope to be ready within two years.
"I don't want somebody bringing in steak and mashed potatoes made six-hours ago, that are getting re-thermed in a makeshift catering kitchen," Blackburn said. "We want quality control. So, I want to make sure when people are there for a wedding or a cooking class or a corporate gathering, they are getting the freshest food from the best places, prepared on-site by folks who are not caterers, but cooks who are professionals; people who are passionate about it."
And you may see the couple back on the small screen in the near future.
"We are in contract with a reputable production company who is shopping our show to major networks," said Kushnir.