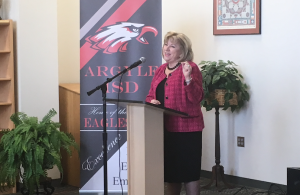 State Senator Jane Nelson, R-Flower Mound, toured Argyle Middle School on Wednesday and praised the quality of education in southern Denton County.
As part of School Priority Month, Argyle ISD invited many community members and leaders to Focus on Education Day at Argyle Middle School in Canyon Falls. Guests took a tour of several classrooms — including TV broadcasting, English and Science, Technology, Engineering and Math (STEM) — before Nelson gave the keynote address. Later, the Argyle High School choir, theatre group and drill team performed.
Nelson, a former teacher, served two terms on the State Board of Education and is currently the Chairman of the Senate Finance Committee in the State Senate. She discussed the work she has done and wants to do to improve education in Texas.
Nelson said the cost of Medicare in the state has risen from 11 percent of the state's budget in 1993 to 39 percent today, and that huge increase "is crowding out other resources, other goals we would like to accomplish."
"If that keeps growing, it's going to crowd out education funding, transportation funding, other things we are trying to do," Nelson said, adding that the "best investment" in education is paying teachers.
"I want to make sure we are paying our teachers what they are worth, and what they can make doing other things, because those are the people I want teaching my grandchildren," she said.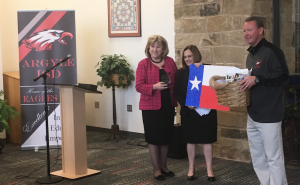 Argyle ISD was also celebrating its seventh consecutive UIL Lone Star Cup, a Texas record. It is a product of the "good education, good learning going on" in Argyle, Nelson said, "but that's not always the case all over the state."
"As a member of the State Board of Education and then as a senator, I've had the opportunity to visit other parts of the state, and for whatever reason, learning isn't happening like it is right here," Nelson said. "These children are going to be living in a world with those children, and our challenge is to make sure all children are prepared to be successful adults in their future. I have learned recently, too, the challenges we face today are much different in accomplishing goal than even when I started doing this. We have a much different student population in Texas."