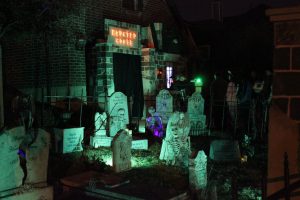 A Flower Mound haunted house is getting ready to give Halloween enthusiasts a good-natured scare later this month.
The Hawthorne Manor Haunted House started as an activity for Jim Venvertloh's kids' Halloween party when they were 4 and 6 years old.
"But over the last eight years, it has grown into quite the event," Venvertloh said.
Venvertloh, a self-described "mild-mannered CPA just trying to have some fun," dove head-first into the life of a "haunter" and spends a lot of his free time building animatronics and props for the growing Hawthorne Manor Haunted House.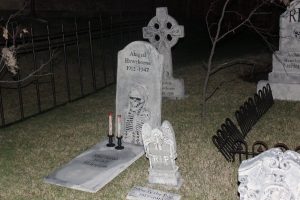 "I have a lot of fun doing this," Venvertloh said. "I'm always coming up with new ideas. It's a part of me, it's what I do. This time of year, it makes me really happy."
The haunted house is centered around a fictitious story of an intruder killing Lord Archibald and Lady Edith Hawthorne and three of their four children on Halloween night, 1916. The youngest child, Abigail, survived and was placed in the care of the state. Later, a butcher escaped a local insane asylum and set up shop in the abandoned Hawthorne Manor.
Venvertloh said the haunted house is scary, but family-friendly. The recommended age is 6 and up.
"I don't go for the gore, I go for startle effects," he said.
The haunted house takes up most of the Venvertlohs' three-car garage, divided into 11 different rooms. It usually gets 300 guests per night over three nights. Located at 1728 Enchantress Lane, it will be open from 5-9 p.m. Oct. 26-27 and Halloween.
The haunted house is free, but the Venvertlohs request guests bring a canned or boxed food item to be donated to the food pantry at Metrocrest Services. Cash donations will also be accepted.
Click here for more information.