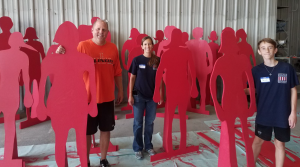 The Young Men's Service League's Argyle Chapter will display 80 cutouts of human silhouettes this month on the Denton Square to bring awareness to domestic violence.
The life-size cutouts will be set up on the Square on Oct. 18 to raise awareness to the number of deaths that occurred as a result of domestic violence last year in Texas, according to a news release.
The Argyle YMSL members spent the last two weekends on September tracing, cutting, assembling and painting the figures. On Oct. 18, they will be displayed at the Square and there will be the Annual Denton County Candlelight Vigil in remembrance of the survivors and family members of victims of family violence, a Denton County Friends of the Family event. Click here for more information.

YMSL is an organization that initiates and encourages young men and their mothers to pursue philanthropic involvement in their community, and October is Domestic Violence Awareness Month.