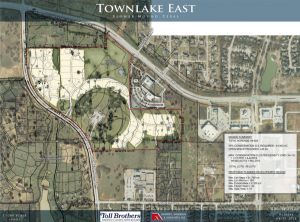 At its meeting Monday night, the Flower Mound Town Council put out a "welcome mat" for a town tennis center; but the door hasn't been opened yet.
A unanimous council vote passing the Toll Brothers' rezoning request for the Townlake East 89.9-acre residential cluster development for 56 lots with a maximum of 1.6-acres each, located south of Cross Timbers Road (FM 1171) and east of Flower Mound Road within the Cross Timbers Conservation Development District (CTCDD) was the first step.
The "mat" came in the form of adopting an amendment for the town's acceptance of 13.11 acres– adjacent to Rockpointe Church– donated by the developer to be used as dedicated park land for a park development fee credit in the amount of $77,728 for extensions of the town's eight-foot-wide Hike and Bike Trail System.
In other words, Toll Brothers is donating the land, currently labeled as a Private Meadow, to the town's Parks and Recreation Department with the unofficial intention of building a 24-court tennis facility.
Public speakers– including former Mayor Tom Hayden and Nancy Kleckner, representing the Flower Mound Tennis Association (FloMoTA)– urged the donated land be used to build the much-needed tennis facility.
For more than a year, Kleckner has been a public face for the association of area tennis players. She said the USTA (United States Tennis Association) recommends at least 60-courts for a town the size of Flower Mound.
The town has nine-courts at Bridlewood and Wellington, but access is limited for public use. She added that there are five public courts at Leonard Johns Park, but showed a photo of a large fish from the adjacent pond laying on a court to illustrate the persistent problem of flooding.
She outlined the recent search for enough land to house a tennis facility.
Kleckner shared that in April of this year, "[former] Mayor Tom Hayden spoke to a representative from Toll Brothers, then Chuck Jennings [director of Parks and Recreation] and Gary Sims [former executive director of Community Services] joined the conversation."
"It is so hard to find park land in Flower Mound," said Hayden when he spoke. "Council authorized Gary and Chuck to look at about 12 locations– of about 12- to 15-acres– and they said they wished LISD would sell their land near Liberty [Elementary], but they weren't interested."
The 13-acres are large enough for a tennis center set in a park-like setting, with a playground and a parking area adjacent to Rockpointe Church, which has requested overflow additional parking for special Sundays, like Easter and Christmas.
"The courts at both Flower Mound and Marcus High are on four- to six-acres, including viewing areas and buildings, so we have more than that," Kleckcner said. "And, it won't look institutional."
Hayden also spoke on the merits of building the tennis center on the donated land.
"There's no better access," he said. "No current impacted neighbors, the lights will be turned-off at 10 p.m. and– at $150,000 per acre– saving $2 million to buy land. This will be one-third less cost for a tennis center."
That number reflects an additional funding amount of approximately $4 million to build the facility. It will also need to go through the Master Plan process and a public-input process. It will  then be added to the list of town capital improvement projects (CIP).
Kleckner requested the town to post a sign reading the land to be the future home of  the town tennis facility for future neighbors.
"Tennis is growing," said Kleckner as she "It's a huge sport for all ages."
"We aren't voting on a tennis center tonight," said council member Kevin Bryant. "We're voting on zoning and what to do with part of that."
The request for a Development Plan and an application for a tree removal permit for five of 105-specimen trees were also passed unanimously.