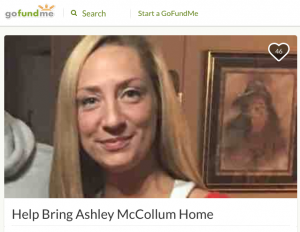 A Flower Mound woman was found dead last week on the Jacksonville, Florida coast.
Ashley McCollum, 32, has been identified as the woman whose body was discovered by a fisherman on Little Talbot Island in the early morning on July 13, according to Jacksonville media reports. The fisherman told one news outlet that he saw blood when he approached her body.
Bret Kaiser, McCollum's boyfriend of three years, said McCollum was in Jacksonville to care for her ill stepfather, who had raised her.
"He died while she was there talking to him, basically in her arms," Kaiser said. "She really struggled the next couple days and wanted to come home."
McCollum was supposed to come home on Saturday, but on Friday night, she went to the beach.
"The last thing we heard was she wanted to go see the ocean, to stand in the water and feel the water," Kaiser said. "Her body was discovered the next morning."
It is unknown how McCollum died. According to one Jacksonville news outlet, police have ruled out foul play. The Jacksonville Sheriff's Office did not respond to requests for comment.
"We don't know what happened," Kaiser said. "We've heard multiple stories.
"I don't know if it was suicide, but I know she was having a hard time with her stepdad dying in her arms. She went to the beach with a couple guys she didn't know, and I know they've been questioned."
McCollum's stepsister set up a GoFundMe fundraiser to help cover the unexpected funeral costs.
"The news our family received (Saturday) is very heart wrenching," the fundraiser webpage says. "Ashley was not always perfect but she was loving … We want to get her home and have a service but it is very costly … If you are not able to we understand but any little bit helps."
Click here to donate to the fundraiser.
McCollum lived in Flower Mound with Kaiser and worked at Bass Pro Shops in Grapevine. Kaiser said she was a "very outgoing" woman who "had been going through a lot."
"She just wanted to take care of everybody, she wanted to be everybody's mom," Kaiser said.
Bill Megelich, general manager of Bass Pro Shops in Grapevine, said he hired McCollum just over a year ago into a leadership position, "and immediately she did very well."
"I think one of her most enduring qualities was that even when she wasn't having a good day, she went out of her way to make sure others were," Megelich said. "She was always very upbeat and bubbly, and she loved her family. We always heard her talk about all her nieces and nephews."