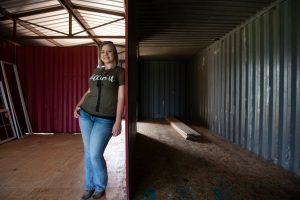 Everything about Lantana's Erin Spence says: "Made in the DFW Metroplex."
The outgoing 31-year-old local realtor was born at Baylor Hospital in Dallas.
She grew up in Cedar Hill.
Her bachelor's degree in Business Management is from the University of Texas Dallas.
Her parents and married sister and family live in Lantana.
Her brother lives and practices medicine in Flower Mound.
"We're so close-knit," she said, "we still have dinner together every Tuesday night."
The family's real dream is to be able to walk to those dinners. With that in mind, her parents Jim and Debi McClung, bought an over six-acre plot of lakefront land in unincorporated Denton County on Lewisville Lake's Oak Point peninsula, then created Bella Vue owned by their family trust.
"Bella Vue is my family's own private subdivision," Spence said. Her upcoming shipping container house is the first construction project on the land.
Recycling big steel inter-modal containers is a recent eco-friendly trend.
In their first lives, the huge crates crossed oceans stacked on ships, transversed land masses on railroad flat-cars, or rolled down highways and byways behind 18-wheeler cabs. The military even uses them as housing for soldiers in out-of-the-way places like, say, Afghanistan.
Somewhere along the line, the idea emerged that the big boxes might make serious houses. A lot of trial-and-error and some pretty spectacular construction has filled the interim between then and now.
"About four or five-years-ago, I saw a television show about alternative types of housing," said Spence. "The container homes just captured my imagination."
Banks consider shipping containers a variation on the modular home theme. Land ownership is a prerequisite for people who want financing, which is something along the line of a mobile home loan.
"I want to be mortgage-free," she emphasized.  That means downsizing to a starter residence of 1,100 square feet and a cash-only construction budget.
"I'm my own general contractor and hiring subs who come recommended by my real estate contacts," said Spence.  "I'm also having fun buying used pieces like windows and doors, etc."
Containers come in various qualities from new, to one-use, to seriously old and all priced accordingly. There are several standard sizes and heights. Thick plywood floors are built in.  Container King in Sanger, Texas, supplied the basic units of Erin's new residence.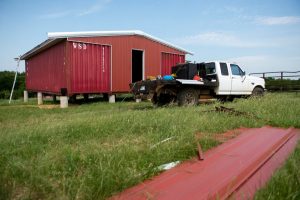 To indulge in a seriously tiny "tiny house," a single 20-foot by eight-foot container will provide 162-feet of challenges. Some businessmen have proved the sky is the proverbial limit by putting up multi-story apartment buildings of containers that look pretty darned good in the internet photographs.
"I'm interested in retaining the corrugated look of my containers," Spence said. "The exterior walls will be power-washed and primed, but the new paint will match the original maroon color." Her house footprint is a general rectangle, with a slightly pitched metal roof added, to provide attic storage space.
At the current time, most container homes are constructed on land beyond municipal limits. This allows a lot of design flexibility. The containers are bolted to concrete slabs or piers. One mountain get-away in Colorado is bolted to native rock.
The famous architect-designed Manifesto House– made of 85-percent recycled earth-friendly materials– has wood pallet "siding" on the outside of its corrugated steel walls, to provide shade on sunny days. The place has the look of modern art.
Over the years, a number of professional firms have designed container houses. The people involved say controlling heat, cold, and sounds from wind are issues to think about up front.  Landscape plans are a big help.
The long walls of a steel container not only brace the structure, but bear its load. The most breath-taking constructions have huge picture windows and doors on the short-sided ends.  Structural engineers like to keep cuts in the long walls to a minimum to prevent having to compensate elsewhere to maintain the built-in stability. This is where an architect can help make a good design.
Spence's house will have spray-on insulation between its exterior steel walls and interior drywall. After that, the rest of the place is the same as any other house built on piers.
Depending on what a client wants, it is estimated that container houses can be produced for as little as about $40,000. One luxury place in the Dallas area cost roughly $200,000.  The owner provided a lot of his own labor. Stick-built, the same custom house is estimated to cost $300,000, so the steel made quite a savings.
Spence is building her new place in stages, "Like a modular home; one piece at a time, as I can afford it."
She envisions a 3,000-square-foot finished project. The trade-off for time and patience is no mortgage, which she said, "sounds wonderful."
"My parents were always self-employed," said Spence. "Dad manufactured and distributed 'green' chemicals for waste water treatment."
The environment is important to her.
"Eco friendly is something I've always known about," Spence said, adding that her father has 36 patents worldwide for products he invented and perfected.
"What I'd really like to do eventually is develop subdivisions of container homes," Spence said.
She envisions whole neighborhoods of environmentally-responsible, socially-friendly, affordable housing for young families who will make some sacrifices to avoid big mortgages; and, want to treat the planet with respect.
One of her present goals is a place where outside play for her daughters is more worry-free for Mom.
"I also want them to have more time away from television, Xbox, phones, tablets, laptops and all the electronic stuff," she said. "This location will be a brand-new experience for us."
And best of all the closest neighbors will be grandparents, aunties, uncles and cousins.
At Bella Vue, Spence plans for a chicken coup housing 12 birds and a small barn for half-a-dozen yoga-goats. Yoga goats?
Those are pets that not only keep the grass short nature's way, but walk on your back during yoga classes held about 300-feet from the lakeshore sparkling just through a band of woods.
What about selling the house at some future point?
"We can do that, but it means buying the land from the trust first," she said.
With a boat and water sports just a stone's throw from the new house– at the moment anyway– selling seems quite unlikely.