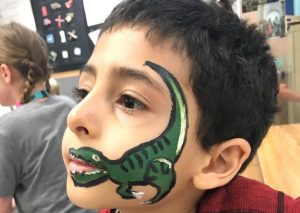 By Beth Dilley
The National Art Honor Society was established in 1978, and its stated purpose is "to assist students in reaching their full potential in all forms of art and to raise awareness of art education in the school and community."
Participation in the NAHS makes students eligible for certain scholarships and graduation benefits. It also builds leadership abilities, provides opportunities for peer recognition, and helps to prepare students for graduation and careers in the arts. Flower Mound High School has a vibrant and active chapter of the NAHS thanks to the efforts of the chapter sponsor, art teacher Michelle Harper.
I recently spoke with the chapter president, Devon Regal, about the National Art Honor Society. She highlighted some of the activities Flower Mound student members have participated in throughout this school year. She also discussed future activities and ideas they hope to implement next year.
Besides Devon, there are four other officers listed on the FMHS Art Club page who help to organize and run these events in which members participate; Jun Kwon, Vice President; Alexandria Santiago, Secretary; Jiwon Lee, Publicity; and Samantha Parrott, Treasurer.
Ms. Regal stated that one of the largest volunteer opportunities the chapter provides is face painting for the fundraising carnivals that our local elementary schools host each year. The student members also participate in craft sales and candy grams to raise money for their local chapter. They recently purchased a button maker, so next years efforts will include buttons celebrating "Jag Pride" and other student interests.
The funds raised by NAHS members help to fund a couple of truly worthy causes which are more altruistic in nature. Many choose to help with the 'Lunch Bag' initiative by providing inspirational quotes or verses which get added to lunch sacks and distributed to the homeless population in Dallas. Further, high school members can participate in something called The Memory Project. This is a charitable, nonprofit which invites art teachers and students to create and donate portraits for children around the world who have been devastated by poverty, war, disasters or loss of parents. These portraits are created from photos sent to the chapter by the organization, and the resulting portraits are gifted to these children along with a picture of the student artist who created it for them.  This project raises awareness on the part of the artist and a sense of feeling valued and recognized on the part of the child who receives his or her portrait.
As a member of the National Art Honor Society, a member who participates in four years or forty volunteer hours throughout high school is eligible to wear an Honor Cord during graduation. These students can be proud of the efforts they have made in fulfilling the mission of the National Art Honor Society and the impact they have had on their school and community as well. They exemplify the spirit of excellence found throughout the LISD fine arts programs.
Beth Dilley serves as a board member in Place 3 on the Flower Mound Cultural Arts Commission.