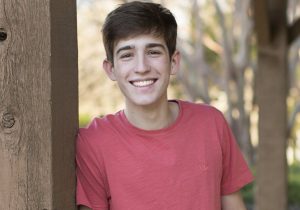 Brooks Toothman claims that he once ate 50 chicken wings in a single evening.
While that may not be what you would expect to hear from a member of the Flower Mound High School National Honor Society and Spanish Honor Society, Toothman definitely likes to have fun.
"My dream job would be to work in the front office of the Dallas Mavericks," Toothman said. "I am passionate about basketball and sports in general, so it would be incredible to work for my favorite team."
The Flower Mound High School senior has been a four-year member of the Jaguars basketball program and said being involved in the school and community is very important to him.
"Joining different organizations was a great way to meet a variety of people," Toothman said. "But it was the friends I made while in basketball that are most important to me. They have stuck with me through thick and thin, and we have made so many amazing memories together."
Toothman, 18, credits boys basketball coach Eric Littleton and the rest of the coaching staff with helping him to become the person he is today.
"They have given me invaluable advice and served as fantastic role models for myself and all the other kids that grew up in the basketball program," Toothman said.
He carries a weighted 4.84 grade point average and is ranked 64th in his graduating class of 957 students.
Toothman said the biggest challenge he has had to overcome in his life also turned out to be one of the greatest opportunities, and something that he will never forget.
"My family moved to Australia halfway through my junior year," Toothman said. "While this was an amazing opportunity to experience another culture, it was also very challenging. High School is a difficult time for anyone to move and it was even harder for me, being the foreign, American guy. I learned to love my new environment in the year I spent there before returning to Flower Mound in January."
Toothman is also a member of the Fellowship of Christian Athletes and scored a 1590 on his SAT.
He plans to attend the University of Texas at Austin in the fall and study sports management.
Toothman's Favorites
Favorite Subject: History
Person who inspires me: My Dad
Favorite Food: Tablitas
Favorite Movie: The Princess Bride
Favorite TV Show: Nathan For You
Last Book I Read: Lord of the Flies
Favorite Musical Performer: Jon Bellion
Nominate your favorite student for this monthly feature brought to you by Texas Health Presbyterian Hospital Flower Mound by emailing [email protected].