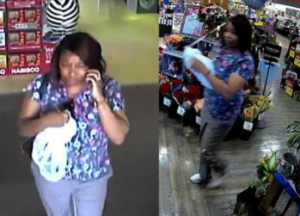 The Coppell Police Department is seeking help identifying a woman accused of using a stolen credit card in Flower Mound, Lewisville and Coppell.
On April 23, an 88-year-old woman at a retirement community in Coppell noticed her wallet had been taken from inside her purse, according to a Coppell Police Department news release.
The woman pictured in the surveillance images allegedly used the victim's credit cards to purchase gift cards at Kroger grocery stores in Coppell and Flower Mound and a Tom Thumb grocery store in Lewisville, according to the news release. The suspect was seen driving a dark-colored SUV with a roof rack.
Anyone who may be able to identify the suspect or has any additional information about the case is asked to contact Crime Stoppers at 972-436-8477 or coppellcrimestoppers.org in reference of Coppell PD case 18011370. Tipsters remain anonymous and may be eligible for a cash reward of up to $1,000.