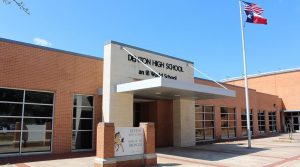 Denton ISD has finalized an agreement to purchase about 150 acres in Denton for the future location of a new Denton High School.
The new Denton High School was proposed in the 2018 Denton ISD bond package. When voters approved it on Saturday, $10.5 million was spent to secure the location, which is north of Windsor Drive, west of North Bonnie Brae Street and south of North Elm Street near the University of North Texas Discovery Park, according to a school district news release. It is less than 1.5 miles from the current Denton High location at 1007 Fulton St.
Denton High School has a wide geographical zone. Students from north, west and south Denton — as far south as the Country Lakes neighborhood — attend the school.
"We were extremely excited to be able to find a piece of property that is so close to the current Denton High and will meet the needs of future Broncos for many years to come," said Superintendent Dr. Jamie Wilson in a prepared statement. "Denton High was the district's first high school and will always remain the high school for many residents, so it was important for us to find a location that would allow it to remain a focal point of the neighborhoods it has served for so many years."
The 56-member Citizens' Advisory Committee, which made the recommendations found in the 2018 Bond Package, deemed it more cost-effective and functional to build a new school on a different site than tackle another renovation to the 61-year old facility. The new building will be able to accommodate 2,400 students, up from the current enrollment of 1,995, and it will be completed in time for the 2021-22 school year at the earliest.
"Our goal is to keep the Denton High zone intact, yet we will continue to look at student projections as we get closer to that opening day," Wilson said. "We don't modify attendance zones unless our schools are overcrowded and we see a need for a new school building. That doesn't appear to be the case right now, but we know our community is excited for the Broncos new home."