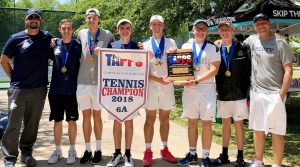 The Liberty Christian School boys tennis team in Argyle won the Texas Association of Private and Parochial Schools (TAPPS) 6A State Championship for the first time since the school was founded 35 years ago.
Playing for state at the Waco Regional Tennis Center on April 17, the boys made Liberty history by bringing home the state title.
"All of the families associated with the tennis program deserve this state win," said head coach Darren Snyder. "Our players work so hard and have come together to create a memory that will last a lifetime."
Earlier this spring, the boys team won the regular season district championship, going undefeated for the second year in a row. Two weeks ago, they won the TAPPS district tournament held at Collin County Community College.
At state, juniors Ben Ward and Trevor Vaccaro (team captain) won the doubles championship and went undefeated the entire year in all TAPPS matches. Sophomore Trey Wells took third place in the singles division, losing only to the first place winner. Juniors Hunter Boyd and Preston Blakeley reached the doubles quarterfinals as one of the top eight doubles teams in the state. Senior Matthew Reneau's singles qualification contributed to the overall point total that enabled the boys to capture the state crown.
"With the team losing only one senior this year, the future of the Liberty tennis team is still bright," said Coach Snyder.
In the girls bracket, Katherine Marks won second place in the singles division and went undefeated during regular season play. The girls team posted notable victories during the season as well, with wins over Ursuline and Parish Episcopal.
"Overall, the Liberty tennis team experienced an incredible season and looks to continue their success in the future," added Coach Snyder.