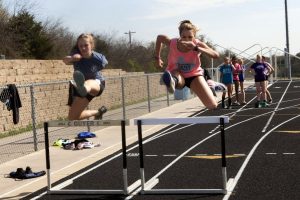 As track and field season gets underway, local coaches are anticipating excitement this spring. Southern Denton County produces some of the strongest athletic talent in the state in the sport of track and field and 2018 should be no different.
The Marcus boys won a district championship last season, but lost a lot of the team to graduation.
Coach Andrew Reinberg said he has been pleased by what he has seen from his team to this point this year. While there is some inexperience with which to contend, there is also a lot of enthusiasm.
"The season has gone very well," Reinberg said. "The boys are young, but have worked hard to overcome the loss of a senior-heavy class last season. We look forward to a great District meet."
Reinberg added he expects a big season from Jacob Egan, a senior who advanced to Region last year in the 800-meters and will compete in the 800- and 1600-meters this season.
"He is running very well," Reinberg said.
He added that the objectives this season for the Marauders are to defend their District title and win an area championship.
Over at Flower Mound, Coach Andrew Cook said he is seeing contributions from field, sprint and distance events early on this season and said after finishing second in District in 2017, the goals in 2018 are pretty clear-cut for the Jaguars.
"Our objectives this season are to compete for a District title and qualify as many athletes as possible to the area meet," Cook said.
Flower Mound should be led by returning area qualifiers Matthew Johndrow (hurdles), James McAfee (hurdles and discus), Coby Kelley (100- and 200-meeters) and Alex Maier (1600- and 3200-meter distances) this season.
Maier qualified for State last season in the 3200-meter event for Flower Mound.
In Denton's Guyer High School, the Wildcats boys track and field program is coming off a rough 2017 campaign, in which the team finished last at the District meet, due to a number of injuries and a disqualification of its best relay team.
Coach JD Aaron said he is confident his team will rebound this season and it would appear there is nowhere for the Wildcats to go, but up.
"The season is headed in a good direction," Aaron said. "We are on the verge of getting everyone healthy for the first time, just at the right time."
Aaron said he expects Asa Harris (4×4 Relays) and Riley Wood (800-, 1600- and 3200-meters) to help lead the way for Guyer.
"Riley has broken the school record twice in the 3200 just this year," Aaron said.
He added the objective for this season is to make sure his team is in a position to rival for a chance to qualify for the area meet this season.
"We are looking to get healthy before District, so that we can make a push to compete in the top of our District," Aaron said. "We are also looking to better our PRs (Person Records) each week."
Down the road at Argyle High School, the Eagles boys team is hoping to pick up where it left off last season after qualifying two athletes for the State meet.
Argyle should be led by high jumper Trent McCloud this season, who finished fifth at State in 2017 in the same event.
Also, keep an eye on pole vaulter Nick Calabrese, who won an area round championship last season and has a good chance to qualify for s State this year.
At Liberty Christian School, coach Trent Vest said his team is looking pretty good early on and starting to get into a good rhythm.
"The team is progressing well," Vest said. "Each week we seem to improve a little bit in our times and field event marks."
Vest said the stronger athletes returning for the Warriors include: Andre Washington, probably the fastest and most experienced athlete on the team; Matthew Grigg, a five-event athlete with State aspirations in all five; Grant Sawyer, senior leader and competitor; and, Andy Buttrell, a sophomore with excellent upside in the throwing events, who has already hit over 49-feet in the shot put.
"Our goal for the year would be to continue to improve each week in the areas we can control," Vest said. "We want to be competitive at the State-level across the board."
The Liberty Christian boys finished second in District and fifth at State last season as a team. Grigg Logan Moonier, Sawyer, Christian Pikett, Preston White and Washington all qualified for State last year.
Girls' Prospects Good
The girls' programs at Argyle, Liberty Christian, Guyer, Flower Mound and Marcus have multiple athletes who qualified for Region and State last season and area coaches are optimistic about their chances this year.
The Liberty Christian School girls team had an outstanding season in 2017, finishing second as a team at the State meet.
Coach Zack Vest said graduation took its toll on the team, but early this season, his athletes are finding their places on the team.
"Last year, we had a big graduating class on our team," Vest said. "As a result, this year we are very young and still in the process of getting people in the correct places to help them be successful."
The Lady Warriors do return some serious firepower from last season, as Elizabeth Reneau (Duke), whom Vest describes as: "one of the most talented distance runners in the state," as well as Izzy Hopkins (defending TAPPS State Champion in the 100- and 200-meter races) plus Morgan Monschke all return for Liberty Christian this season
Following its Regional Championship in 2017 and strong showing at State, Vest said the expectation for 2018 is two-fold.
"Our objective every season is to compete in such a way to glorify Christ in all we do," Vest said. "This season we are very young, so our goal is to try and get them the experience needed to be ready by District and Regional."
For the Argyle High School girls team, coach Greg Martin said he is excited about what the 2018 season could hold in store.
"Things have been looking good," Martin said. "We have a young group of girls this year that is getting some great experience at the varsity and sub-varsity level prior to District."
Argyle finished third in District in 2017, with five regional qualifiers and two athletes who qualified for the State meet.
Martin said he expects big seasons from Lanie Rodgers and Madison Peltier, among others.
"Both athletes were pivotal points in Cross Country this year, helping the team place second in District and qualify for Regionals," Martin said. "Rodgers went on to place 18th at the state meet."
Martin said he has a few objectives for the state meet this season.
"As a team, we would like to continue to grow in numbers and experience," Martin said. "Individually, we have a great group of girls who would like to repeat and progress from their success of last year, as well as some freshman girls looking to challenge some other runners in District and Area."
In Denton, the Guyer girls team has had an excellent turnout this season and coach Megan Hardesty said the depth and talent has really paid off for the Lady Wildcats early on.
"This season has been very successful," Hardesty said. "We have won three of the five meets we have competed in so far. The other two meets, we finished third to some of the top teams in the state (Desoto and Duncanville at the Skyline Meet and Allen & McKinney North at the Guyer home meet).
Hardesty said she expects Eni Akinniyi (triple and long jumper), Christalee Kirby (shot put and discus) and Brynn Brown (800-, 1600-, and 3200-meters) to lead the way for Guyer this season.
"Brynn is the first girl in Denton ISD history to break five minutes in the 1600-meters," Hardesty said.
Brown ran a 4:58.73 in the 1600-meters at the Texas Distance Festival in March.
The Guyer girls finished fifth in District last season and Hardesty said the objective for this season is to finish in the top three.
"This is the largest girls track team Guyer has ever had," Hardesty said. "The depth of the team is quite impressive. Varsity-level athletes are having to compete on JV. Every week girls are competing for spots on the team and on relays. The inner squad competition only makes our team stronger."
In Flower Mound, the Marcus girls team is coming off a 2017 season in which the team placed sixth overall at State. Coach Steve Telaneus said that so far this season, the Lady Marauders are undefeated and the presumptive District favorites.
"Our goal is to win District, win Area, and qualify enough girls to the State meet to challenge for a top three spot," Telaneus said.
Marcus athletes to watch this season include Quinn Owen, MacKenzie Hayward, Nicole Ume-Ezeoke, Allison Warren, Taryn Hankins, Lorielle Daniel and Maddie Meiner, all of whom qualified for the Regional meet last season.
Owen won a State Championship in the 1600-meters and finished second at State in the 3200 event, and Hayward was second in the pole vault event at state in 2017.
The 2018 Flower Mound High School girls team has the potential to have a great season as the Lady Jaguars have a core of strong returning athletes.
Coach Andrew Cook said he expects Tonia Adeyemi (hurdles and high jump), Katherine Pottorff (hurdles and triple jump), Kirstin Ferland (400-meters and 4×400 relay), Laura Fairchild (1600- and 3200-meters runs) and Raegan Smith (pole vault) to lead the way for the Flower Mound girls this season.
Fairchild and Smith both qualified for State last season, and Cook added many of his athletes have been contributing in all facets of the sport.
"It has been great to have a well-rounded team," Cook said.
The Flower Mound girls finished fifth at the District meet in 2017.