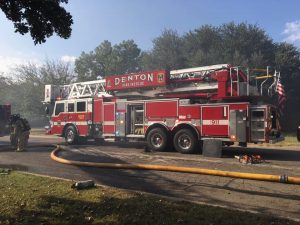 Denton ISD is launching a program to help high school students earn firefighter and EMT certifications before graduation.
Starting next school year, through a partnership with the Denton Fire Department, students can enroll in the two-year program at the LaGrone Advanced Technology Complex — the district's professional training facility for high school students — to help prepare them to pass their firefighter or emergency medical technician certification exam, according to a school district news release.
"Because of the partnership with Denton FD, our graduates who complete the certification process will gain an advantage during the interview process with the Denton Fire Department," said Marcus Bourland, principal of the LaGrone ATC.
Instructors will be members of the faculty at North Central Texas College who currently administer the program on the college campus, according to the news release. Class work is the equivalent to other programs and includes an intensive para-military physical fitness style training. All candidates will learn to use the appropriate equipment and receive hand-on medical equipment necessary to complete the program.
Students will accompany current fire personnel on the required 'ride-a-longs' to active scenes outside of regular school hours. Current freshmen and sophomore students who are interested need to contact their counselor immediately to ensure they are enrolled in the appropriate pathway courses.
As with all programs at the LaGrone ATC, Denton ISD students will receive first priority in enrollment and classes will then be filled with students from the surrounding eight districts — including Argyle ISD — who have an agreement to attend.
For more information, contact your high school counselor or the LaGrone ATC at 940-369-4850.