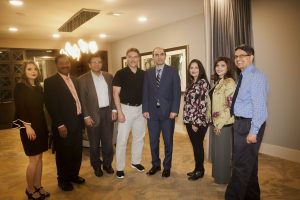 Long before it even opened, Flower Mound's Avanti Senior Living had a special plan to honor a special group of area people.
It all started more than a year ago when families began placing their deposits after deciding to have Avanti care for their loved ones.
"As families move in we always have to ask 'who are your doctors,'" said Sandy Gilster, Avanti's community relations director. "I'm also a member of a half-dozen networking groups so questions came up there. These names have been accumulating, and accumulating and accumulating. The only rule was they had to be from Flower Mound, Highland Village and Lewisville."
Nearly a dozen physicians came to the forefront in what was tagged "The Best of the Best." The ceremony was conducted March 27 in the facility's dining area. Those selected were:
• Cherry Chandi, Internal Medicine
• David Cooke, Neurology
• Hardeep Dhaliwal, Internal Medicine
• Washim Haque, Endocrinology
• Saira Jamal, Family and Geriatric Medicine
• Fareha Kazi, Internal Medicine
• Najam Khan, Internal Medicine
• Shrirang Neurgaonkar, Internal Medicine
• Raul Santos, Cardiology
• Dale Swanholm, Family Medicine
• Bryan Wasson, Internal Medicine
Gilster served as master of ceremonies for the evening. She was joined by Avanti leaders including Stephanie Marckman, executive director; Renee Rachels, family relations advocate; Kim Buckner RN, director of wellness; Gianna Agudelo, fitness coordinator; and Regina Ezell, engagement director.
The event followed a busy first several months after Avanti opened its assisted living section in August and memory care in December. Currently all but one of the 50 assisted living units are occupied and about half of the 40 memory care residences are being used.
"We have lots of special events throughout the day," Gilster said. "We have lots of socializing."
Avanti takes a different approach with modern architecture inside and out and artwork.  It features a fitness center with a full-time fitness instructor.  All care is provided in the privacy of the apartments and never in common areas to help respect the dignity of its residents.
Avanti is passionate about seniors coming to the community and thriving and feeling like they are at a resort for seniors with assisted living and memory care needs. Having excellent health care choices is an important part of that experience.
It directly relates to an answer doctors provided when asked their favorite part of their jobs.
"The love of my patients," they collectively answered.
"We appreciate having great doctors, wonderful physicians that come to our community that our residents can get the best care," said Rachels.