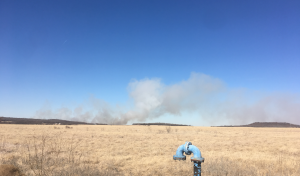 A large grass fire ignited late Thursday morning at Robson Ranch in far south Denton.
Denton Assistant Fire Chief Kenneth Hedges said a construction crew was working in a drainage ditch behind a house in the 9000 block of Riverside Drive in Robson Ranch about 11:15 a.m. They were cutting rebar with power tools and caused a spark that got into the grass. The humidity was low and wind was significant, and the fire got away from them.
About 100 Denton Fire personnel responded, as well as firefighters from just about every town and city in southern Denton County, Hedges said. After about two-and-a-half hours, the fire was out.
The fire burned an estimated 200-250 acres of prairie land that is believed to be an undeveloped section of Robson Ranch. No one was injured and no structures were damaged.
Dry conditions and high winds have contributed to many large grass and brush fires in the area, including a 200-acre fire on Monday in far west Flower Mound.