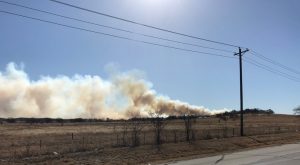 We will likely never know what caused the large grass fire in west Flower Mound on Monday.
The Flower Mound Fire Department investigated it and officially ruled it "undetermined," according to department spokesman Brandon Barth.
The fire ignited mid-morning Monday near the northeast corner of FM 1171 and Hwy 377, according to the Flower Mound Fire Department. Twenty-three outside agencies assisted Flower Mound firefighters for more than 10 hours to contain the fire, which grew to more than 200 acres before it was contained and extinguished.
"The perfect combination of high winds and dry conditions" fostered the fire's growth, according to the town. The fire, which could be seen and smelled from many miles away, didn't threaten any homes.