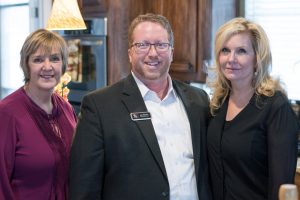 Addiction and overdose are topics close to Kathy O'Keefe's heart. Her son, Brett O'Keefe, died on March 20, 2010 from an accidental drug overdose. After his death, she felt that it was placed on her heart to save other kids who were in similar situations to Brett's. While they couldn't save Brett, they could save hundreds of others. And that's when Kathy and her husband decided to start Winning the Fight (WTF).
They reflected back on the things they were lacking during their own experience – education, resources and support. So that's exactly what their mission with WTF is – to educate, provide the necessary resources, and to, of course, support the youth and the families.
We know many of you may be thinking, "I'm sure drug use isn't an issue in my community," but it absolutely is. Kathy once told us that there are an average of three drug-related teen deaths each year right here in Flower Mound. And no matter how you look at it, three deaths among our youth are three too many.
In 2017 alone, Kathy and WTF were able to help 341 families. And what does that help entail? They are equipped to educate parents through interventions and are able to offer support and help as parents work to get their children into detox centers and rehabilitation facilities. They also work directly with addicts – visiting them in hospitals and getting them into treatment centers.
Kathy and WTF have become an integral part of our local community. Kathy has teamed up with local police departments and the Denton County courts to help parents and youth.  She has parents who stop by her house and pick up drug testing kits from her front porch. She has spent countless hours at hospitals visiting with youth and parents – offering advice, counsel and resources.
So the question is, what can you do to help WTF's mission? You can support them at their annual events like their Stompin' Stigma 5K that takes place each Fall. You can volunteer. But more than anything right now, WTF could use your donations. A $5 donation can buy a drug test kit which is an invaluable resource for parents helping their kids through drug use and addiction.
Kathy ultimately hopes that WTF will eliminate the stigma surrounding addiction so that conversations can be had about how to prevent addiction and better help people through it.
If you know someone who is struggling, please encourage them to get some help. There is help out there for them. So many people will not come forward because of the stigma associated with it, so until we knock down those barriers, they will need your encouragement to get help.
We are grateful to have Kathy O'Keefe here in our community, helping our youth and their families who are struggling with these issues every day. And we hope you'll find a way to support her and her mission with WTF.
To learn more about Winning the Fight (WTF) and Kathy's mission, or to make a donation, click here to visit their website.