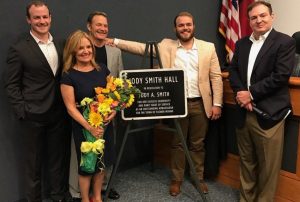 Anyone who knows Flower Mound's former mayor Jody Smith, also knows it takes a lot to make her speechless.
On Monday night, Mayor Tom Hayden and the Town Council managed to do just that when they officially voted to name the town's new Town Hall Council Chamber the Jody Smith Hall; Smith's mouth opened in surprise and no sound came out– mission accomplished.
Of course, this was the cherry on top of the 90-minute sundae-of-love she received from an audience of surprise "Jody lovers" and fans. The new Town Hall construction broke ground this June 19 and is expected to finish in approximately 15-months, weather permitting.
Included in the surprise were her husband, Steve, and two of their three sons– Andrew, 29, and David, 25, who flew in from his home in the state of Washington to surprise her; youngest son, Chris, is finishing his final semester at the University of Alabama and was unable to attend. Smith's eldest child, Christy, was lost too young at only seven-years-old in 1991, when she was fatally struck by a car during a Christmas parade. The lovely little girl bronze statue at the entrance of Flower Mound's library was donated by the Smiths in her remembrance.
"She's the best ambassador the town has ever had and the most generous person in Flower Mound," said Hayden as he introduced Smith, nearly dragging her to the front of the council chamber.
"Jody loves children and first-responders," said Mimi Janas Bishop, representing the CACDC (Children's Advocacy Center of Denton County), one of many nonprofit organizations related to children of which Smith has been a long-time supporter– both administratively and financially. She has also been a force behind the annual CACDC Gala fundraiser.
The 2011 "Pennies for Paige" local fundraiser, to help the family of young cancer victim Paige Boutillier, was personally supported by Smith, said Paige's mom, Jodie Boutiller, on Monday night. The two women have remained friends, which is a trademark of Smith; she holds on to her ever-expanding circle of friends she's formed since moving to Flower Mound 32-years ago.
Near the center of that circle of friends is Fred Placke– former 12-year member of the LISD Board of Trustees, Marcus High School teacher and local realtor– and the nonprofit he's supported for decades; New Horizons (Ranch), which provides specialized treatment and care for children– ranging in ages from seven- to 17-years old– suffering from emotional, behavioral and attachment issues, due to significant physical, sexual, or emotional abuse, by providing residential treatment, foster care and adoption, plus youth and family counseling.
Placke's battle with cancer kept him from attending the Monday night meeting, but pictures were shown of Smith dressed in a Mrs. Claus outfit with Placke for their annual gift-giving trip to The Ranch's Residential Treatment Center in Goldthwaite, Texas. The Ranch houses up to 56 children at a time, many of whom have never experienced receiving a gift at any time, let alone Christmas.
Placke's mission has always been to make sure each child received support equal to approximately $300 in gifts, customized to meet each child's need and interest. Smith does more than donate generously financially, she also donates her time; out of her Mrs. Claus costume, too.
Although her professional life as co-owner of CornerStone Staffing employment agency since 1991, plus that of an international flight attendant with American Airlines, the "human Energizer Bunny" has demonstrated extraordinary time-management skills to serve the Flower Mound community, its residents and professional staff.
"I was stranded in Colorado with a skiing injury with no way to get home and she got American Airlines to get me home," said Capt. Michael Baldree of the Flower Mound Fire Department. "She's also the reason we [the FMFD] got our first thermal imagery camera 22-years ago; the only one in the area back then."
Town Veteran Liaison and co-founder of the Seniors In Motion (SIM) group, Doug Brown, who was celebrating his 92nd birthday on Monday, told the story of Smith's participation in the start of the group, in support of its creator, Shirley Voirin.
"In 2000, Jody gathered a group of 10 to 12 seniors in her kitchen to help get the group started," he said. "Well, there was a little wine involved, but that was the start."
From that beginning, the SIM grew to become a 501(c)3 nonprofit with more than 1,200 members and a permanent Senior Center opened on May 14, 2015 on West Windsor.
Former council member Paul Stone, representing The Summit Club, spoke about Smith's contribution to help the men's service organization ability to fund two annual scholarships for NCTC students.
Tim Trotter, also a former council member, said, "We had walls around Flower Mound [for development] and she opened the town for business."
Smith has stated helping to bring the town's first hospital [Flower Mound Texas Presbyterian] and The River Walk development to the community as her top town achievements.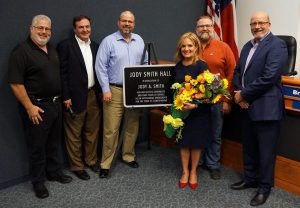 Former Council member and currently Municipal Judge, Jeff Tasker, put a personal spin on Smith as a person, remembering a day when Smith called him to say she'd be picking him up in her new car and he should be outside. Tasker said she pulled up, told him he was going to drive, because she didn't know how, and as they gained speed driving down FM 2499, she called the FMPD to warn them about the speed test of her new convertible.
"One thing about Jody, it was fun, it was fast, but we always knew where we were going," said Tasker of her stint as mayor. "She knows how to task a vision and get others to follow her. She always has the best interest of the town and people at heart."
Prior to serving as a three-term mayor (2004-2010), she served on various boards and as a Planning and Zoning Commissioner. During the past seven years, she has continued her participation in town government, most recently as chair for the 2016 Charter Review Commission.
On hand to attest to Smith's civic contributions and service were an impressive number of elected government officials; all of them also consider Smith as a friend.
Denton County Commissioners Andy Eads and Bobbi J. Mitchell both told of her service– Eads as a fellow founding member of the Cross Timbers Rotary Club, while Mitchell called Smith her "sister from another mother."
State Rep. Tan Parker pointed to how Smith's past vision for the town are, "being reaped today," presenting Smith with a House Resolution for her contributions.
Texas Sen. Jane Nelson said: "We've known each other since before we weren't even 40! I've watched you do all those things to make Flower Mound great, because its people are good." Nelson then presented Smith with a Senate Proclamation.
A video from U.S. Rep. Michael Burgess, MD, was played and Smith was presented with an American flag which had flown over the U.S. Capitol.
Following October 16, 2017, being named officially as Jody Smith Day and the presentation of a replica of the Jody A. Smith Hall plaque, which will be in the new Town Hall, Smith finally found some words.
"I'm only as good as the people I surrounded myself with," she said, in a typical attempt to deflect the praise of others. "All I'm doing is following in others' footsteps."
The indisputable fact that Jody Smith is a path forger and visionary leader begs the question of who's following whom.