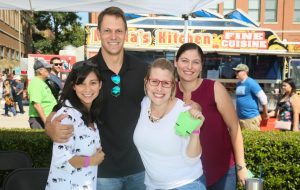 The 3rd Annual FloMo Food Truck Fest will roll in to Parker Square on Sunday, Oct. 8, from 11 a.m. to 6 p.m.
The much-anticipated fundraiser for Flower Mound's Congregation Kol Ami — with a portion of the proceeds benefiting The Jordan Elizabeth Harris Foundation which supports suicide prevention and depression research, and Kyle's Place, a Lewisville shelter serving homeless teens — will feature dozens of popular North Texas mobile dining artisans.
"In addition to 25 food trucks, there will be shopping opportunities with more than 50 vendors offering toys, clothing, mental-wellness education, fitness items, essential oils, chocolates, jewelry, beauty supplies, jams and much more," said Laurie Appelbaum, one of the three 2017 chairs, with Caren Bornstein and Gabrielle Giddan.
To add a higher level of fun for "foodies" this year, Jay Marks (local realtor and "Foodie Friday" columnist) is sponsoring a Food Truck Fest Cook-off competition. In addition, there was an online competition to name a first-time "adult beverage station," sponsored by The Yellow Rose Steak & Chop House. The winning name selected by the restaurant is the "Rose Garden Nectar Station."
Judging the competition are Jay Marks; Kim Hinkle, executive director of Journey To Dream; Rabbi Geoffrey Dennis; and, Svetlana Schoggins, owner of The Yellow Rose Steak & Chop House.
Among the food trucks offering options — ranging from Maine Lobster to BBQ, from healthful vegetarian and vegan to brats and pizza — are: Best Bayou Bites; Blake's Snow Shack; Bombay Street Food; The Butcher's Son; Chile Pepper Grill; Coochies BBQ; Cousins Maine Lobster; Easy Slider; F & F Express; The Famous Dumpling Bros.; For Love of Pizza; Fried Pies for All; Gepetto's Pizza; Greek Lover; The Guava Tree; KB's Brats; Lean Machine; Penguin Perry's; The Pickled Carrot; Rise & Grind; Ruthie's Rolling Café; Sandwiches Around the World; The Dock; The Smokin' Chef; and, What's da Scoop.
In keeping with the goal to highlight mental and physical health, the Carter BloodCare bloodmobile will be onsite for those interested in donating blood, as well as a mobile unit offering free flu shots.
"The 2017 FloMo Food Truck Fest is again recognizing the town's first responders by marking Oct. 8 as Flower Mound Police & Firefighter Appreciation Day," said Appelbaum.
At 2 p.m. during the event, Flower Mound Mayor Tom Hayden will lead a ceremony recognizing the dedication of these first responders.
"It is an honor to be able to tell the community about the incredible men and women working for our police and fire departments during the FloMo Food Truck Fest ceremony. This event is another great opportunity to bring Flower Mound together, celebrate our first responders, and enjoy some great food alongside our friends and neighbors," said Hayden.
There will be two bands playing in the gazebo throughout the day: Van Gogh's Ear, a classic and contemporary rock and roll group that recently headlined at the Highland Village Balloon Festival, and Kris "Mudbone" Colwell, a Nashville recording artist who will be bringing his band and national tour to the Fest. Colwell and his band have opened for multiple artists from The Charlie Daniels Band to Blake Shelton.
The Kids' Zone — sponsored by The Jordan Elizabeth Harris Foundation — will be free for children ages 10 and under and will include Bounce n' More's two-lane zip line, a giant obstacle course, a vertical slide and two toddler funhouses. There will also be face painting, air brush tattoos, balloon artists, and more. Plus, pets and pet owners can relax and enjoy the Pet Zone, sponsored by Earthwise Pet Supply.
"Since safety is our priority, we will have security — Flower Mound police officers on foot, on bicycles and in an elevated command post. EMS will also be on site," said Appelbaum.
Bathroom facilities, including those for handicapped, will be provided. The event will be pet-friendly, but people are asked to clean-up after their pets. Parking will be available all day at Parker Square, as well as across the street at Lamb of God Lutheran Church after 11:30 a.m.
This year, the Diamond level sponsors include: Big Frog; Ellen and Tom Harris with The Jordan Elizabeth Harris Foundation; Parker Square, which is donating the event space; and, Tom Thumb/Albertsons.
"In addition this year, the G6 Hospitality Group is "Backing the Blue," supporting our EMS and generously sponsoring all of those individuals who keep us safe at our event."
Platinum level sponsors include: Bounce n' More; Core Chiropractic & Physical Medicine; Gooden Counseling, which is sponsoring the health and wellness area; Jay Marks Real Estate; Kuzmich Law Firm; North Central Texas College/Midwestern State University, Remington Hotels; Stamper Roofing & Construction; and, The Yellow Rose Steak & Chop House.
"Additional thanks to Laura Riley at LMRiley Creations for designing the event poster and to Erin Pierce at Pioneer Realty for designing and hosting the website," added Appelbaum.
The $5 admission price includes parking, admission to the Kids' Zone for children 10-years-old and younger, access to the food trucks and all-day entertainment.
Tickets for the FloMo Food Truck Fest will be available onsite. Advance tickets are available online and will be sold at the Farmer's Market in Parker Square on Saturdays Sept. 30 and Oct. 7.
For more information or buy to tickets, visit: www.flomofoodtruckfest.com or call 469-844-OYUM (0986).