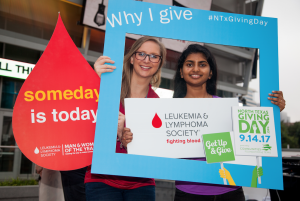 The nation's largest giving day returns to North Texas for its ninth year on Thursday.
Communities Foundation of Texas' North Texas Giving Day has generated $156 million for the community over the past eight one-day events, according to a news release, drawing support from all 50 states and 39 countries worldwide and breaking five national records. Last year's event raised $37 million.
"In addition to reaching our current supporters, North Texas Giving Day also provides an opportunity for One Man's Treasure to attain a new and larger base of donors who become a new voice in carrying the message of our mission of service to formerly incarcerated men," said Annette Jenkins, a One Man's Treasure executive, in a prepared statement. "North Texas Giving Day has helped us achieve our annual budget in the past, providing funding for the increased clothing needs generated as we grew to a record 1398 men served in 2016. The $11,000 raised last year, helped meet the program's increased clothing needs and we hope to meet this year's Giving Day goal of $25,000."
New this year, North Texas Giving Day kicked off a week early with a launch event called Celebration of Giving. Also, many nonprofits are raising their own supplementary 1:1 matching funds to augment bonus funds and prizes raised by CFT and to further boost donations. Donations up to $10,000 made from Sept. 7-14 to the more than 2,500 nonprofits listed on the site will be amplified by the general bonus funds and prizes. Nonprofits with matching funds will be shown on their own leaderboard on the website so donors can follow their favorite
nonprofit's progress throughout the day.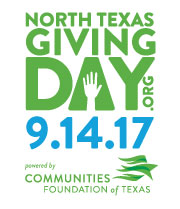 "The incredible energy and outpouring of support that this community generates each year on North Texas Giving Day is nothing short of remarkable," said Dave Scullin, president and CEO of Communities Foundation of Texas. "Communities Foundation of Texas is honored to power this vast community-building effort
Giving Day Denton Donation Station, celebrating Denton County Nonprofits on
North Texas Giving Day, will be at the Denton Square on the Courthouse Green, 110
West Hickory St., from 5 p.m. to 8 p.m., featuring more than 50 nonprofits
showcasing children's activities, Beth Marie's ice cream and a battle of the bands
contest broadcast from the LSA burger rooftop stage.
Click here for more information.