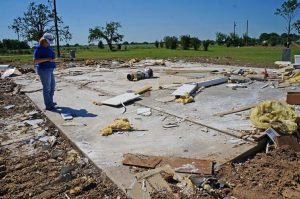 The 2017 year of disasters began on April 29 with a tornado that wiped out a large swath across North Texas, including the small community of Fruitvale.
Following his visit to view the total desolation of the area, Flower Mound Fire Chief Eric Greaser shared his anguish for the residents who lost everything with Mayor Tom Hayden. Shortly thereafter, Hayden was actively recruiting donations, fundraising sponsors and inter-community challenges to help rebuild the tiny town by supporting the Habitat for Humanity of Denton County.
An original fundraising goal of $200,000 was set and, as of the council meeting, $122,062 has been raised.
"I love a challenge," said Highland Village Mayor Charlotte Wilcox. "I grew up with brothers."
She was attending the Monday night Flower Mound Town Council meeting to participate in the recognition of larger donors to the relief effort, as well as awarding a Harley Davidson motorcycle or a Ford Mustang to a winning raffle ticket holder.
Helping Greaser with the presentations was former mayor Jody Smith, Habitat for Humanity of Denton County Executive Director Carol Kyer, Susan Murray and Sue Bowman from 5-Star Ford.
From the 2,593 raffle tickets to win the Ford Mustang, Richard Myers of Realty Capital held the winning ticket. He immediately requested that the car be sold, with that sale amount be donated to the Fruitvale fundraiser.
"We're hoping this will help complete some things down there," said Myers. "This is the first time I've ever won anything, so it's pretty exciting. Maybe I should go buy a lottery ticket."
Additional donors recognized were: Heritage Health Solutions, James & Julia Rosengren, Texas Rangers and CoServ with a $25,000 check presented during last Friday's Rotary Club meeting.
Donations will be accepted until Oct. 1 at: rebuildfruitvale.com.