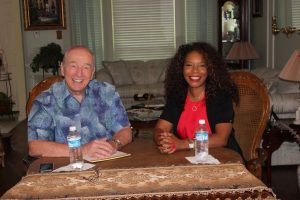 The definition of the term glass ceiling is; an unacknowledged, and ultimately illegal, barrier to advancement, especially for women and people of color. The metaphor has been used since the 1980s when it was coined as a phrase indicating that many professional women could not break through the "glass ceiling" to the upper level of management. Highland Village resident Jeannetta Collier is the founder of Imaginary Glass Ceiling. "This company was birthed out of the simple joy of wanting everyone to live up to their full potential," she said. Jeannetta is also an entrepreneur, real estate expert, motivational speaker, results coach and author of the book "Imaginary Glass Ceiling."
"My passion is to help entrepreneurs all over the world to step into their own. I can do that by providing a personalized solution with proven strategies, through educational and networking opportunities, along with that one-on-one mentor you're looking for," she added. With more than 25 years experience in business and the corporate world, the spirit of entrepreneurism has a special place in Jeannetta's heart. Moreover, her spirit is not confined to the benefits of business success. "Being involved in my community is one of my many passions. I have served on numerous boards & commissions and non-profits organizations." Ms. Collier was also a candidate for the Highland Village Council a few years ago.
A passage from her website below: "Like many of you, I have accomplished many things throughout my life. At the young age of 19, I had my only daughter and decided to go off to college. While attending college, I worked as a singer in a nightclub, modeled on runway and print. A few years later I moved out of state and got married. That is when I began working for a global real estate franchise corporation. Soon after, I had my son and about 15 years later I moved my family back to Texas. After moving, my career took off. I became an entrepreneur, started multiple businesses, dipped into politics, and well, the list truly goes on and on and on."
During the interview, Jeannetta talks about some of her other passions. "I love life, reading, world travel and beautiful shining things." Check out her website below: www.imaginaryglassceiling.com
Bob Weir is a former NYPD officer, long-time Flower Mound resident and former local newspaper editor.