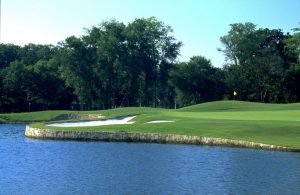 The Bridlewood Golf Club in Flower Mound was sold last month, and the new owners are planning lots of upgrades and renovations.
Dominion Golf Group of Austin, which owns Lantana Country Club, sold Bridlewood to Advance Golf of Dallas, a group of former golf company executives who own almost a dozen clubs in the country, including two others in Dallas-Fort Worth.
Larry Galloway, an Advance Golf co-founder, said Bridlewood was chosen because Advance Golf targets properties with good course designs and good locations for growth.
"Bridlewood has a good reputation as a premium public course," Galloway said. "Flower Mound is one of the top growth areas in Texas which is one of the top growth areas in the country."
Galloway said the golf industry was hit hard by the recession in 2008 and "hasn't fully recovered from that."
"Many golf courses have been somewhat maintained on a shoestring," Galloway said. "Because of the challenges they've faced over the last decade, these properties usually need a significant facelift.
"We're not too worried about what caused the demise, but we're more focused on the future. We're excited about golf's future, but we know we have to pick the right property in the right location."
Though he declined to say how much the golf club sold for, Galloway said Advance Golf's loan had funds built into it to cover renovations at the club. Fees won't be raised, he said.
"Typically, what we do is renovate the clubhouse, put a lot of money into the course and course equipment," Galloway said. "We increased the maintenance budget by hundreds of thousands of dollars, and we're going to take that property that's gotten a little tired and give it a big refresh."
Galloway said the new owners want to make the driving range more of a focal point by adding music and making targets and the driving range experience more fun.
In the clubhouse, there will be so many new 80-inch TVs that they will be almost like wallpaper, Galloway said. Some of the furniture is worn out and will be replaced. The number of beers available on tap will be increased from two to 10, and the menus will be redone and improved.
The renovations on the course and in the clubhouse will be staggered so that only a small part of each will need to be closed at once during the projects.
Galloway said the new owners will meet soon with members of the club's men's association to discuss the renovation plans.
"Typically, they've been hanging on and they're a little frustrated with the former owner because they watched it age and deteriorate," Galloway said. "We want to make it better … but first we've got to earn their trust."