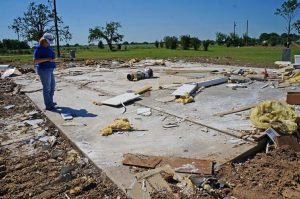 Four people were killed, dozens were injured and even more were left homeless and in need of food, water, shelter and other basic necessities after tornadoes ripped through three counties east of the DFW Metroplex late last month.
In response, Raising Cane's Chicken Fingers is hosting a fundraiser to help its neighbors get through this difficult time.
On Thursday, May 18, all four Denton County Raising Cane's restaurants will be supporting Habitat for Humanity by donating a portion of the day's sales. Customers are asked to simply mention the fundraiser and 15% of their purchase will be donated to the organization. Donations will be used to rebuild homes in Fruitvale, near Canton.
The fundraiser is being held in conjunction with the mayors of Flower Mound, Highland Village, Argyle and Lewisville, who have committed to raise money for the same cause.
"There was a terrible amount of damage due to the recent storms in our area, and it's heartbreaking to see how much our neighbors have lost," said Lindsey Harmon, Area Director for Raising Cane's. "It's such an honor to have the support of the local mayors. All of us at Cane's want to do our part to help our friends in the Fruitvale area, so we hope everyone will come by during Thursday's fundraiser and help us make a meaningful difference in the recovery efforts."
Visit any of the four Denton County locations to participate in the fundraiser:
3205 Justin Road, Flower Mound
2705 West University Drive, Denton
"On behalf of my fellow Mayors, we cannot thank Raising Cane's enough for joining with us to help our friends in Fruitvale," said Flower Mound Mayor Tom Hayden. "I know my family and I will be eating at the Cane's in Flower Mound on Thursday, and I hope the entire town will join us to enjoy some awesome chicken fingers and assist in the recovery process."
Habitat for Humanity brings people together to build homes, communities and hope. Habitat homeowners achieve the strength, stability and independence they need to build a better life for themselves and their families.