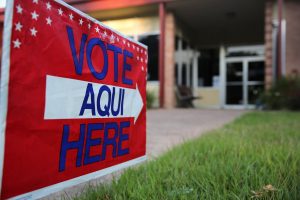 Early voting is underway for the Saturday, May 6, municipal and school elections.
A number of town council and school board seats are up for grabs in southern Denton County.
There will be contested elections in Argyle, Bartonville, Denton, Denton ISD, Flower Mound, Lewisville, Lewisville ISD and Northlake. Several city charter amendments are on the ballot in Highland Village. In addition, school bond packages will be decided in the Argyle ISD and Lewisville ISD. Learn about the races and issues here.
Early voting hours are 8 a.m. to 5 p.m. Monday, April 24, through Saturday, April 29, and from 7 a.m. to 7 p.m. on Monday and Tuesday, May 1 and 2.
During early voting, registered voters may cast their ballot at any of the 28 Denton County early voting polling sites. Click here for a map of early voting locations.
The closest early voting locations in southern Denton County are:
-Flower Mound Police and Municipal Court Building, 4150 Kirkpatrick, Flower Mound
-Highland Village Municipal Complex, 1000 Highland Village Road, Highland Village
-Double Oak Town Hall, 320 Waketon, Double Oak
-Bartonville Town Hall, 1941 Jeter Rd E., Bartonville
-Argyle Town Hall, 308 Denton St., Argyle
-Argyle Middle School, 6601 Canyon Falls Dr., Flower Mound
-Harvest Hall Community Center, 1251 Homestead Way, Argyle
-Lewisville Municipal Annex, 1197 W. Main Street, Lewisville
-Justin Municipal Building, 415 N. College, Justin
Election day is Saturday, May 6, from 7 a.m. until 7 p.m.
Visit the Denton County Elections website for more information.