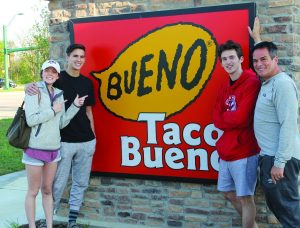 Neither distance nor the dead of night could deter dedicated Buenoheads, some of whom not only drove at least 30 miles but also camped out in their cars overnight, from attending the grand opening of the new Flower Mound Taco Bueno.
The new restaurant, located at 4500 Long Prairie next to Texas Health Presbyterian Hospital, opened its doors at 9:30 a.m. Tuesday.
Though the location's Facebook page said the first 50 in line would receive $100 gift cards, Taco Bueno management generously distributed 20 more to make sure everyone in line received a gift card. Once inside, aficionados could also enter drawings held hourly for $25 gift cards.
Altogether, the restaurant gave away over $7,000 during its grand opening celebration, said Melissa Powers, Taco Bueno's Marketing & Communications Manager.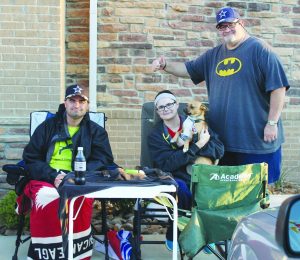 Powers noted that Taco Bueno has partnerships with the Dallas Maverick and the Dallas Stars and accordingly, Champ, the Dallas Mavericks mascot, visited to spread fun and Dallas Maverick hats among the restaurant's patrons and employees.
Taco Bueno's President and CEO Mike Roper, a Flower Mound resident himself, said he and all the company's employees were excited to be opening a store in Flower Mound.
"It's in a great location. Long Prairie is always busy and a real attraction for us was the River Walk," said Roper.
The restaurant employs about 45 area residents.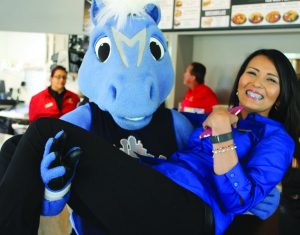 Roper added, "We have 163 corporate restaurants and 22 franchises. We started in Abilene and the Flower Mound restaurant is the first new one of 10 that will open in 2017. We will also be opening ones in Frisco, Sulphur Springs, and The Colony."
Roper explained that half of Taco Bueno's restaurants are in the Dallas area. However, fans lie far beyond Texas. Powers and Roper said taco lovers in Australia have requested the opening of Taco Bueno Down Under.