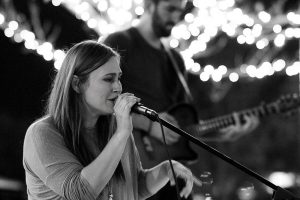 The live music of the Lakeside Music Series returns for its second season in the plaza at Lakeside DFW on Friday, April 7.
This season, Mio Nonno Trattoria will be open and patrons may sit on the patio overlooking the plaza while they enjoy food, drink, and music.
Once again, talent agent Michael Clay is bringing a variety of high quality acts.
The season kicks off with the classic and contemporary rock 'n roll of Sebastian Valenzuela, who performed a record three times at Lakeside last year. He delighted audiences, enticing many to jump up and dance.
Chaz Marie, the "Hillbilly Aretha [Franklin]," will perform on April 14 along with husband Quienten Hope.
Twice last season, Marie entertained the Lakeside crowd with her powerful voice and non-formulaic blend of country, delta blues, R&B, and rock and roll.
The final two weeks of April will see two acts make their debut at the Lakeside Music Series.
Chant Duplantier brings a jazzy blues guitar sound to Lakeside on Friday, April 21.
A seasoned musician who has toured for over 10 years with the band, Daddy's Chair, he will dazzle you with his guitar as well as his voice.
He'll perform some original material as well as some savory covers, including "Purple Rain," "All of Me," and "Sara Smile."
And on April 28, Matt Tedder will bring his bluesy slide guitar to Lakeside.
Already a veteran of the Nashville music scene, the 20-year-old Fort Worth native will share some material from his upcoming debut album as well as covers from the likes of The Rolling Stones, Chuck Berry, Jimmy Reed, and Roy Orbison.
As always, bring a blanket or portable chairs if you don't plan to listen from one of the nearby restaurants.
And come hungry and thirsty. Carvao Prime Brazilian Steakhouse offers a happy hour from 5 to 7.
Paradise Bistro offers a wide variety of dinner and drink options just across the street from the plaza.
And Mio Nonno Trattoria brings a full bar and a full Italian food menu to Lakeside plus ringside seats on their patio for the live music.
Late in the spring, Hanaya will open at Lakeside with its Japanese hibachi, sushi, and fusion menu. Then in late summer, Mena's Tex-Mex Cantina will open at the corner of Northwood and Lakeside.