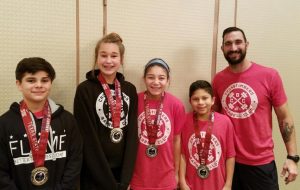 Cross Timbers Barbell Club (CTBB) participated in the Texas State Weightlifting Championships in Irving Jan. 14 and 15 and took home six team trophies and nine individual medals. As a team, they finished third in total hardware in the state.
On the youth side, Brynn Courtney, who attends Lamar Middle School in Flower Mound, won first place in the age 13-14 (58-kg division) with a 96-kg combined total (38-58).
Both of her lifts, snatch and clean-and-jerk, were personal records. Her total has qualified her for her third straight Youth National Championships.
Fellow Flower Mound Larmar Longhorn, Donovan Berendt, also took home a gold medal; with a combined total of 82-kg (35-47) in the 13-14 50-kg boys division. Berendt was just a few kilograms shy of qualifying for his second Youth National Championships; but, will look to do so later this spring in the North Texas Youth Championships.
The brother-sister team of Gracen and Isabelle Martinez of Highland Village, each won second place in the age 11-13, 35-k and age 13-14, 53-kg divisions, respectively. Gracen's finish has earned him his second consecutive Youth National Championship trip, while Isabelle came up just short.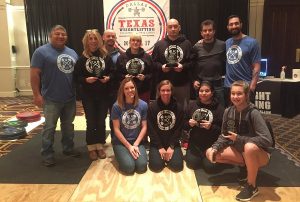 Overall for the youth, the boys took home: 3rd place boys juniors, 2nd place boys youth, 2nd place girls juniors and 2nd place girls youth.
On the master's side, CTBB finished second in the men's division and third in the women's.
Husband and wife duo, Kimberly and Rodger Delany, each won gold medals.
Kimberly lifted a total of 67-kgs (28-39 age group) and Rodger finished with a 100-kg (44-56 age group).
Jimmy Ashabranner of Flower Mound, achieved a lifetime personal record of 100-kg on the clean-and-jerk, to go with his 68-kg snatch and a gold medal in the 40-45M, 77-kg division. Teammates Jim Bosker of and Tomas Martinez both of Highland Village, finished second and third in the 40-44m 105-kg division. Both finished with competition best in snatch, clean-and-jerk; and, totals– Bosker's 182 (79-103), Tomas 174 (74-102).
Head coach David Nichols of Flower Mound, snagged a fourth-place finish in the master's men's age 35-39, 77-kg division. He narrowly missed qualifying for Masters National Championships.
Cross Timbers Barbell is an USA Weightlifting sanctioned club. It holds classes at CrossFit Lewisville and CrossFit Flower Mound.
For more information on the club, visit www.crossfitflowermound.com/weightlifting or email [email protected].