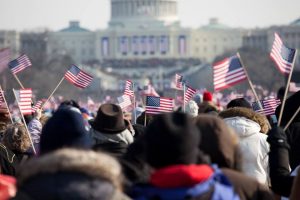 All eyes will be on Washington D.C. for the historic moment of the inauguration of the 45th President of the United States on Friday.
But if you can't be there in person, the Denton County Republican Party will be hosting a Presidential Inauguration Celebration and Swearing In Watch Party on Friday beginning at 10 a.m. at Denton County Republican Party Headquarters, 2921 Country Club Rd. Suite 102, Denton, TX 76210.
Refreshments will be served and all Republicans are invited to witness the 45th President Donald J. Trump and Vice-President Mike Pence being sworn into office.
As a special addition to the celebration, attendees will have the opportunity to get their picture taken with the new President and Vice-President courtesy of the life-size cutouts that will be at Party Headquarters.
For more information call 940-383-4446.