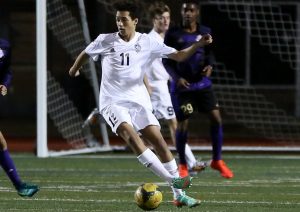 Soccer season is getting underway and area coaches and players are gearing up for southern Denton County teams to have a strong 2016-17 season.
Argyle finished last season with a mark of 19-2-2 and reached the state semifinals, before falling just short of a bid at a state title.
Coach Daniel Lundy said that he did lose some firepower from last year's team, but added that he is confident his team will adjust.
"We have to replace seven starters from last year, but I have been very pleased with how the younger players have looked the first month of practice," Lundy said.
Argyle won its district championship with a perfect 6-0 record in 2015-16. Lundy said he anticipates a lot of players contributing to the team's success this season.
"The four returning starters, juniors Travis Garner and Michael Rigsby, along with sophomore Grant Shaw and senior and leading scorer Dylan Sadler, will be the leaders of the team; along with seniors Bryce Pilawski and Scott Hayes," Lundy said.
The Eagles lost in double overtime in the state semifinals last season and Lundy said he expects Argyle to win district and reach the regional tournament again this year.
"The role players from last year will have to step to the forefront and become the leaders of the team," he said.
Down the road at Liberty Christian School, the loss of first-team all-district goalkeeper Coleman Fish is going to be a tough one to overcome.
But, the return of defender Brayden Kelly on the back line should give the Warriors defensive stability.
Liberty Christian will look to rebound from a disappointing 2015-16 season that saw the team win just one game.
Over at Marcus High School, the Marauders finished second in district 6-6A last season and lost 2-0 to the eventual state champion Coppell Cowboys in the area round of the playoffs.
Longtime coach John Gall, who led the team to a national championship in 2007 and back-to-back state championships in 2007 and 2008, has departed the program to accept a Director of Coaching position with FC Dallas.
Former Marcus soccer standout Sam Garza, a member of those state championship teams in 2007 and 2008, has been named the new head coach.
Garza, who played professionally for the San Jose Earthquakes and Seattle Sounders, said he is impressed with what he has seen from his team so far.
"I am very excited about this group of guys," Garza said. "We have a strong core of seniors– who make up our roster– so we are going to be leaning on them to lead us this season.
"We have a talented group of guys who have been fantastic for me since my arrival. I couldn't be happier with the effort they've given me throughout all the madness that has been these past three weeks. I am anxious to get going and I know the guys are, too."
Look for last year's Sophomore MVP Austin Willis, along with all-district selections Jonathon Costello, Adam Baldwin and Jonas Schmid to be among the team leaders this season, and keep an eye on Bryce Jones, Luke Paponette and Kyle Pellino, as well.
To have a successful season, Garza said it will take a couple of things.
"It takes every single guy in the locker room to buy into what we are trying to do," he said. "We are preparing for not only a season, but for life as well. If we truly put in the work, then all the awards, trophies and success will be a byproduct. We also need some luck along the way."
At Flower Mound, the Jaguars are coming off a 6-12-2 campaign last season, but coach David Doyle said things are shaping up well early on.
"The team is working hard and [the players] are hoping for an improvement from last year," Doyle said.
The Flower Mound coach said he expects: "Noah Kubala and Christian Adams to be effective for us."
He said the goal for Flower Mound is to make the playoffs.
"We need to get more points than four other teams in the district," Doyle said
For the Guyer soccer team, a 4-9-1 district mark last year was disappointing and coach Cody Schroeder said he hopes that the non-district schedule will prepare his team for the rigors of district competition in 2016-17.
"The three-week preseason the UIL affords soccer is a long, arduous grind," Schroeder said. "However, for this year's team, I believe it will prove to be beneficial. We are implementing some new concepts– providing opportunities for players to learn and progress in a new system– and get some younger, inexperienced players acquainted with the rigors of 6A soccer in the state of Texas."
Schroeder said he has a number of players he expects to lead the team this season.
"Caleb Strange, our senior goalkeeper, will anchor an inexperienced defense," Schroeder said. "He split time as a junior last season. Cole Schroeder, our sophomore forward, will be expected to provide scoring and an offensive punch; while Greg Petreas and Nick Au, two senior midfielders, will be relied on heavily to control the flow and rhythm of the offense; and, work tirelessly to help with defense."
Schroeder was pretty specific about what it would take for Guyer to have a good run in the playoffs.
"Younger, inexperienced players will have to mature quickly and improve in preparation for tough district slate of games," he said. "And, the defense will have to be able to hold opponents to 1.1 GAA, while being able to find enough offense to carry the team in games."
Lady Jags Intent on Defending Title
As players take to the field for the 2016-17 girls soccer season, fans are sure to be reminded of a very special game that took place just under a year ago.
The Flower Mound Lady Jaguars, a fourth-seed out of District 6, went on a magical and unprecedented playoff run that culminated with the 6A State Championship victory.
Coach Misail Tsapos led the Lady Jags to the state championship in his first year at the school, which was also his first state title in 27 years of coaching.
Tsapos said that this season's team is shaping up much the same as last year's.
"It will be a young team, but we return six starters from last year's team," Tsapos said. "I can say we are working hard, but until we play regular matches, we are not sure how we'll look."
Following the state championship victory in April 2016, Tsapos said that in the beginning, the 2015-16 season started out as a rebuilding campaign; but, once the team bought into the system, everything just "clicked."
Tsapos said he expects Kendal James, Dawson Depperschidt, Rachel Mann, and Elena Reyna to help lead the way for the Lady Jags in 2016, saying: "they were a big piece of the puzzle to last year's team."
The Flower Mound coach said he feels quite certain that the non-district schedule will be a good preparation for his team's district competition.
"We probably have one of the most difficult non-district schedule in the area," Tsapos said. "I feel every match will be a challenge for us."
The Lady Jaguars finished 17-3-6 on the season in 2015-16 and Tsapos said the major objective for this year is to make it into postseason play.
"Our goal is to be in the top four in district and have a nice run into the playoffs," Tsapos said. "To do that, we have to stay injury-free and be very disciplined."
Across town at Marcus High School, the Lady Marauders had a phenomenal showing in 2016, as well; finishing second in district and advancing to the regional quarterfinals.
Coach Chad Hobbs said, after a 14-5-4 showing in 2015-16, the Lady Marauders are hungry for more wins this season.
"The team looks very good this year," Hobbs said. "We are returning nine starters who are talented and driven toward a collective goal. They have worked hard in the preseason to prepare for the upcoming season, and we are excited to get started."
Hobbs said that he feels his team is very balanced this year, with great talent at every level, starting with the attack.
"Junior forward Taylor Moon has been great for us for the past two seasons," Hobbs said. "She possesses outstanding speed and athleticism with the ability to beat defenders and create scoring opportunities.
"Senior forward Alex Bradford brings a competitiveness to our team that will cause problems for opposing defenders.
"Junior forward Kassey Peralta has tremendous speed and is very good at taking on defenders to get to the goal.  Junior forward Katy Brown brings a high work rate and the ability to score important goals when the team needs them."
Hobbs said his midfield is impressive as well.
"Our midfield consists of third-year starters Maddie Algya, Riley Mattingly and Kaity Hemperly," Hobbs said. "The success of our team will rely on our midfield and these three players are outstanding. They have good technical ability, they are intelligent playmakers with a strong defensive work-rate and creative with or without the ball."
Hobbs said his team may have the most experience of all on the back line and in the goal.
"Our starting defenders are comprised of juniors Avery Hudson and Olivia Kovach– who have been starters for the past two seasons– and seniors Grace Kellner and Kirsten Penney, who have been starters for three years," Hobbs said. "Our defenders have good speed, the ability to press and cover for each other; great organization and a desire to get forward into the attack. We should be very difficult to score on this year.
"We have junior keepers Stephanie Starr and Megan McClay, who have both been with the team for two years. They are both athletic players with good shot-stopping ability and individual intelligence that will greatly benefit our team."
Hobbs said the goals for this season are quite simply to compete for a district and state championship.
Over at Guyer High School, the Lady Wildcats started 13 freshmen on the varsity team and just missed the playoffs by one point last season.
Coach Kenny Blevins said he is excited about his team's chances in 2016-17, adding that–as always– expectations are high.
"At a school like Guyer, every year, we expect to make the playoffs and all the possibilities beyond that are within reason," Blevins said. "At the 6A level, every game is like a playoff game and every team is built on quality players. What happens at the end of the season is exciting and sometimes heartbreaking. We look forward to the challenge and the opportunity to show our improvement and live through the experience."
Guyer finished fifth in district last season, with an overall record of 7-9-5 and Blevins said he has a lot of talent returning for 2016-17.
"Just looking at the work that players are putting in right now, we have several standouts," Blevins said. "Both of our goalies, Grace Goodwin and Heidi Ambrosio, are developing into top-notch keepers.
"In the back, Taylor Hunter and Maddie Janolo are quality soccer players that can disrupt any team's attack; but, [also] have tremendous quality on the ball for possession and building our own attack out of the back.
"In the midfield, we have dynamic playmakers in Lauren Aviala and Rachel Brandt– both are outstanding ball-winners in the midfield and transition into dangerous attacking players. Sarah Vetters and Kenzie Morgan finish out a midfield that can get up and down the field to help defend and attack."
The Lady Wildcats also have a dangerous attacking game with returning Freshman Player of The Year in District 5-6A, Ashley Quintero, who Blevins said: "will continue to be a threat that all teams we play against will have to deal with."
Blevins said that making the 2017 postseason in 2017 will take a couple of things.
"We will have to bring our best effort, individual skill and team unity to every game," he said. "The results will take care of themselves beyond that point."
Down the road at Argyle, the Lady Eagles had an excellent showing in 2015-16, finishing third in District 5-4A competition and reaching regional quarterfinals, before losing to eventual State Champions Kennedale.
Argyle defeated Diamond Hill-Jarvis by a score of 4-1 in the area round to reach the regional quarterfinals.
Look for the Lady Eagles to be led by a number of players this season, including all-district selections Hannah Gladys, Ti Krumme, Abbi Neece, Cami McDaris, and Lauren Oellermann.
For the Liberty Christian girls soccer team, a trip to the playoffs in 2015-16 was a good building-block for this season. Coach Sarah Hawkins said, in spite of some heavy losses, her team is ready to go.
"We graduated eight seniors last year, which put a hole in many of the starting positions," Hawkins said. "This year's team has stepped up to the challenge and I have three freshmen that have earned starting roles. We have a very dedicated group of girls that possess much talent and grit. I'm looking forward to seeing how we continue to grow and create chemistry."
The Lady Warriors were 8-8 last season and finished fifth in district competition.
Hawkins said she has two players she expects to lead the way for Liberty this season.
"My two captains are seniors Chanie Scrivner and Z Kante," Hawkins said. "Chanie has been with the program since she was a freshmen and has really blossomed into a strong and consistent leader– both on the field and off. Her teammates respect her and look up to her.
"Z came to Liberty last year and quickly gained the respect of her peers through her high level of play on the field. She and Chanie complement each other very well and are great leaders who lead by example and choose to encourage their teammates, instead of ride them."
Hawkins said she expects Bishop Lynch and Ursuline to be among the teams to beat this year and said she believes Liberty is more than capable of making the postseason once again.
"I fully expect us to compete with all the teams in our district," Hawkins said. "When we are on, we are hard to beat. We have to find a balance and become more consistent when playing different opponents. This team is very special and can accomplish anything they put their minds to."