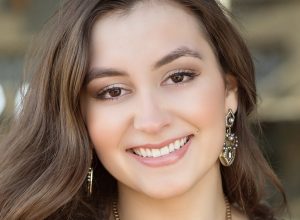 Anna Carter is a natural leader.
The Flower Mound High School senior holds officer positions in multiple organizations and takes her responsibilities very seriously.
"I served as a Lieutenant (of the drill team) my junior year and currently serve as the Captain," Carter said. "I am the Parliamentarian of National Honor Society, and I am also involved in Student Council, FMHS Ambassadors' Club, and English Honor Society. Outside of school, I am a member of National Charities League, where I am the President of the Senior Class."
It is not surprising that Carter said that the best part about attending Flower Mound are all the options students have available to them.
"The opportunities both inside and outside of the classroom that are given to students are what make Flower Mound so outstanding," Carter said. "Teachers push their students to their fullest potential and ensure that they are prepared for life after they graduate high school. My sophomore English teacher had a PhD.
"When my brother was home from college during Christmas break, he saw the assignments I was working on and was shocked to see that a high schooler could be taking a class so similar to his at New York University."
Carter, 17, said that "there is a group, club, or organization for just about any passion or interest," at FMHS and said that, in general, it is a great time to be a young person today.
"We are the future," Carter said. "We have the opportunity and potential to make a positive impact in the world. There is so much hope and anticipation in our high school years, especially for seniors. Our world is so much more accessible through technology and travel. The enthusiasm, optimism, and energy we possess creates a strong movement for change and growth."
Carter carries a 4.65 weighted grade point average and her class rank is 157 out of 852 students.
The Flower Mound senior plans to attend either the University of Texas at Austin or Fordham University in the fall and major in Public Relations.