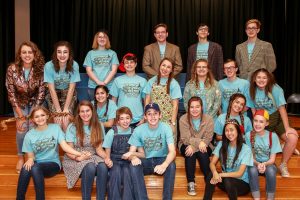 Flower Mound High School continues its theatrical season with Tales of a Fourth Grade Nothing featuring actors from its JV Theatre Company– Stage 'Prents.
Written by beloved children's author Judy Blume and adapted for stage by Bruce Mason, Tales of a Fourth Grade Nothing tells the story of Peter Hatcher and his rambunctious, impossible younger brother, Fudge.  Peter has put up with Fudge's antics for too long and he has had enough.
Tales of a Fourth Grade Nothing is a humorous look at family life and the troubles that can only be caused by a younger sibling.
The Stage 'Prents cast includes Matthew Blom as Peter, Ellie Pelham and Avery Barnwell as Mom, Mitch Wooten as Dad, and Nicole Cooper as Fudge.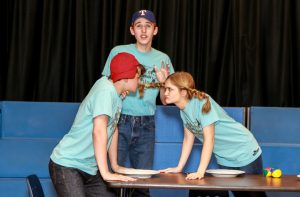 Performances of Tales of a Fourth Grade Nothing run from Nov.10 to 12 at 7 p.m. in the Flower Mound High School Jack & Donna Clark Auditorium at 3411 Peters Colony Road in Flower Mound.
Tickets are $10 for adults and $8 for students and are available online at: www.fmhstheatre.net.   The show is recommended for ages 6 and up.
Director Michael Valentine, Technical Director Dean Robertson, Costume Coordinator Keli Wilson and technical crews present the work that was produced through special arrangements with Plays for Young Audiences.