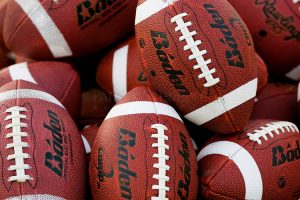 Southern Denton County football teams will be back in action on Friday. Here is a rundown of the teams and their opponents for this week.
Argyle vs. Paris
Argyle is probably anxious to get back on the field following the cancellation of last Friday's game against Abilene Wylie, and Paris will be a solid challenge.
The Wildcats are 2-2 on the season heading into the game, and feature Jalon Pipkins, who finished last season with 12 receiving touchdowns and three interceptions as as two-way player, along with Donovan Williams who averaged 8.8 yards per carry last season at running back.
For Argyle, Chase Estrada has been getting it done at wideout, especially in game three against Celina where he caught six passes for 130 yards and touchdown.
The game will take place at 7:30 p.m. at Argyle.
Liberty Christian @ Prestonwood Christian
The Warriors will travel to Plano on Friday night to try to snap a three-game losing streak when they take on perennial powerhouse Prestonwood Christian.
Liberty Christian will have to slow the running attack of the Lions led by Ian Kelly, who rushed for 146 yards and two touchdowns in Prestonwood's 59-40 victory over Lake Dallas last week.
The Warriors will look for quarterback Jon Copeland to get back to his week one form, when he rushed for two touchdowns and passed for a third in a close loss to Melissa.
The game will be played at 7:30 p.m. at Prestonwood.
Guyer @ Plano
The Guyer football team will look to keep its momentum going from the 63-7 victory over Dallas Kimball in the week prior to its bye when it opens up district competition at Plano.
The Wildcats may have discovered a secret weapon last week in Donovan Greenhoward, who caught three passes for 112 yards and two touchdowns in their game against Kimball.
The running back tandem of Myron Mason and Noah Cain have also presented opponents difficulty, combining for nearly 750 yards on the ground and nine touchdowns.
For Plano, Guyer will need to slow Kyron Cumby (350 yards, 4 touchdowns) to earn the victory.
The game will be played at 7:30 p.m. at John Clark Stadium in Plano.
Flower Mound vs. Southlake Carroll
Flower Mound will look to end a two-game skid on Friday night as they host Southlake Carroll in its district opener.
The Jaguars lost a tough one against Keller Fossil Ridge its last game, but quarterback Jackson Averitt had a strong outing, passing for 270 yards and rushing for three touchdown.
Averitt could be big factor in the game for Flower Mound, as Carroll did surrender nearly 240 passing yards and two touchdown runs of over 20 yards last week in a close victory over Rockwall.
The Jags will need to watch out for Mason Holmes, who passed for 296 yards and rushed for 88 yards last week and scored two touchdowns.
The game will be played at 7:30 p.m. at Flower Mound.
Marcus vs. L.D. Bell
Marcus will look to continue it's winning ways in its district opener against L.D. Bell on Friday after picking up a major win over Mansfield two weeks ago.
The Marauders will look to running back Justin Dinka, who rushed for 165 yards and two touchdowns against Mansfield, to lead the way offensively.
Expect it to be a dual of great running backs once again for Marcus, as L.D. Bell's Ivan Traylor (160 yards, 2 touchdowns) led them to victory against Keller.
The game will be played at 7:30 p.m. at Flower Mound.
Coram Deo @ McKinney Christian
Coram Deo will look to improve to a perfect 5-0 this week when they travel to McKinney to take on the Mustangs.
Brooks King will look to give the Mustangs fits, having rushed for two touchdowns and caught two touchdown passes last week against Lake Country Christian.
The Eagles will have to stop McKinney Christian quarterback Jackson Brock, who has combined for more than 1,240 all-purpose yards and 13 touchdowns this season for the Mustangs.
The game will be played at 7:30 p.m. in McKinney.