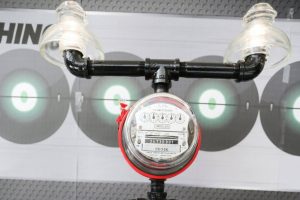 CoServ announced last week that it provides electric and natural gas service to 300,000 meters – 200,000 electric and 100,000 gas.
After Denton County Electric Cooperative was chartered in 1937, it took 67 years for the not-for-profit co-op, now doing business as CoServ Electric, to reach the 100,000-meter mark.
CoServ's for-profit natural gas affiliate, CoServ Gas, was established in 1998 and reached the 50,000-meter mark in 2006.
"The fact that both numbers have doubled in such a short amount of time is more evidence of the exponential residential and commercial growth that our service territory has experienced in this time," said CoServ President/CEO Donnie Clary.  "All signs point to this growth continuing, and as more companies relocate to North Texas, more and more of their employees will call areas we serve home."
CoServ is the second-largest electric cooperative in Texas, and the eighth-largest in the U.S., according to the most recent figures compiled by the National Rural Electric Cooperative Association (NRECA). If CoServ Gas were an electric cooperative, it would be the fourth-largest in Texas. In the U.S., it ranks No. 82 among the top 299 gas distribution companies, according to the most recent numbers compiled by Pipeline & Gas Journal.
Planning for the increased energy demand prompted by commercial and residential growth is a top priority, company officials said. The #CoServ2020 communications initiative provides updates about transmission infrastructure projects for CoServ Members, Customers and communities in their service territory.
"We will continue to plan our systems to provide reliable service to our Electric Members and Gas Customers," Clary said. "We will continue to provide the excellent service they have come to expect."