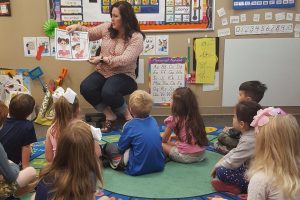 Jill Lange has spent over two decades dedicating herself to an often unappreciated goal — raising good children; four to be precise. But, with her youngest now in third grade, she has had time to chase another dream; and, catch it.
"The Monster in Me," Lange's first children's book, has become a hit with kids, parents and teachers to a level Lange never dreamed.
"This is more than I ever imagined," Lange said. "I thought it was going to be cool and fun, and I really was into it and put 100-percent into it. But, I never thought it was going to be like this. If you'd asked me 10 years ago if I was ever going to be an author and illustrator, I'd have said 'no.'"
Lange and her family have moved eight times, between six states, in the past 15 years. She's been living in Flower Mound for about 18-months, she said.
It was a seminar in Chicago on writing children's books that helped Lange bring her book to fruition. She actually wrote the text of her book the day after the seminar ended, and then set about drawing the illustrations.
"I was taking some seminars on how to get the idea for a children's book 'out of your head and onto paper,'" Lange said. "Because that's the hardest part. So we're tossing around ideas, and I come up with behavior. I've got four kids, and they kind of act like little monsters sometimes," she explained, laughing.
"You know, they don't act like themselves. So that gave me the idea for a book about a kid who turns into a monster. I knew how I wanted it to end, but I didn't know how I wanted it to get there, so (working backward) helped me immensely."
Over the course of the book, as the young female protagonist behaves inappropriately, she is dismayed to find herself gradually transforming into a monster– though, as Lange was careful to depict, not a monster that would actually scare young readers. The girl then has to figure out the positive behaviors that will help her turn back into herself.
"It's really from a parenting perspective," Lange said. "I'm big on ownership and owning your actions, being responsible for yourself. I tell my kids: 'Hey, you can't treat people like that and expect them to want to be your friend.' You learn a lesson from this, and that's what I do with my kids. I want them to learn something. They learn the repercussions of their actions, and if you don't like something, you need to change it."
Lange has been a stay-at-home mother for about 10-years and more recently returned to the passion for art she had when she was younger, painting murals, paintings and other projects as Lange Adaptations.
However, she said: "the writing was super easy. I'm beginning to think I should just do that!"
Lange used the Amazon company CreateSpace to publish her book, which is available at: www.createspace.com/5836646, or as an e-book through the Amazon Kindle store.
"The Monster in Me" now has over 50 five-star reviews on Amazon.com.
Lange is particularly pleased that the book is a hit with teachers.
"Teachers love them," she said. "I actually was at Lamb of God Preschool to do a reading, and talked to the kids about how it feels to make a bad choice and a good choice, and the teachers came out and said that its opened up discussion on responsibility and your actions, and not only that, but on what's real and what's not real—'are monsters real or not real,' that sort of thing."
Seeing the impact of her first book has Lange eager to do more.
"This is not my last book," she promised. "I have more ideas, more time and I'm excited."
She said the next book, which she hopes to publish next year, will be more of an adventure story, which has her boys excited as well.