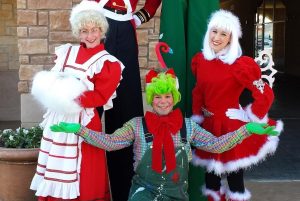 The Shops at Highland Village will celebrate its grand reopening and kick off its holiday season this Saturday with "Our Village Glows."
The festivities begin at 5 p.m. in the newly designed Central Park. At 6:30 p.m. attendees will be delighted with a "flip of a switch" to see the 60-foot Christmas tree and Central Park light show themed "Let it Glow! Holiday Light Show Spectacular," which includes 245,300 LED tree lights synchronized to holiday music. In addition, for the first time ever, Santa Claus will make The Shops at Highland Village his home inside the interactive tree from Nov. 21-Dec. 24.
"'Our Village Glows' is a celebration to kick-off of the holiday season, as well as the unveiling of our multi-million dollar renovation, which includes our beautiful Central Park and amenity improvements that have been taking place this year," said Kelly Smith, marketing director at The Shops at Highland Village.
"This is the first year we will have Santa Claus at The Shops, and his home-away-from-home is magical. As our guests enter Santa's tree house, constructed within the 60-foot Christmas tree, they will be greeted with more than 20,000 twinkling lights intertwined in the tree branches making it a sparkling wonderland – and great for photos."
The Shops at Highland Village will celebrate the new improvements, which include upgraded building façades, common area and landscaping improvements, public art, new amenities for adults and children, and new signage throughout the property.
As part of the celebration, the Highland Village Women's Club is hosting a raffle with proceeds from the ticket sales being donated to local Denton County charities. Tickets will be available for purchase during "Our Village Glows." Raffle prizes include eight Classic Turkey dinners from Whole Foods Market, and one lucky winner will get to "Flip the Switch"
with Santa Claus, turning on the Christmas tree and starting the "Let it Glow" light show.
There will also be school choir performances, strolling holiday entertainment and horse-drawn carriage rides throughout the holiday season.
In the event of inclement weather, outdoor events will be cancelled or rescheduled. For the most up-to-date information on reservations for breakfast and/or brunch with Santa, Santa photo hours and costs, horse-drawn carriage rides, concerts, Black Friday deals and giveaways, and other events, contests and promotions taking place during the holiday season, visit The Shops at Highland Village's website at www.TheShopsatHighlandVillage.com.
Installing a 60′ interactive tree at Shops at Highland Village @TheShopsHV, 20,000 lights, Santa inside the tree! pic.twitter.com/ZHpIihxwMb

— Trademark Property (@TrademarkFW) November 16, 2015