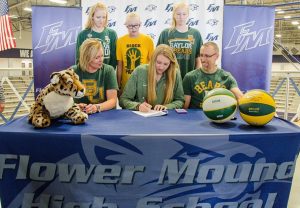 The following is a list of high school athletes from Flower Mound and Marcus high schools who signed National Letters of Intent with colleges on Nov. 11:
Flower Mound High School
Girls Basketball:
Girls Softball:
Sydney Springfield, LSU
Claire Lefner, Tarleton St. University
Megan Gordon, Angelo St. University
Cassie Cantu, Ouachita Baptist University
Kristen Shaw, Galveston College
Kami Carpenter, UT Tyler
Laurel Verdick, Navarro College
Reagan Carter, St. Edwards in Austin
Baseball:
Parker Scott, Univ. of Kentucky
Caleb Kilian, Texas Tech
Skyler Cox, McLennan Community College
Nick Thornquist, McLennan Community College
Derek Wells, Cisco Junior College
Jonathan Smithey, Northeastern State Univ.
Zach Eggers, Old Dominion University
Marcus High School
Boys Basketball:
Brandon Smithey, Pittsburg State University
Baseball:
Dawson Shelburn, Navarro College
Cooper Rentfro, Southeastern Missouri State University
Alex Albright, United States Military Academy West Point
Zach Cook, University of Texas – Arlington
Alex Jackson, Wichita State University
Volleyball:
Bailey Longacre, Fort Lewis
Softball:
Lexi Cushing, Middle Tennessee
Cross Country:
Maddy Reed, Arkansas
Payton Brown, Arkansas
Ashton Huterson, Texas A&M
Information provided by Lewisville ISD Public Affairs Department.