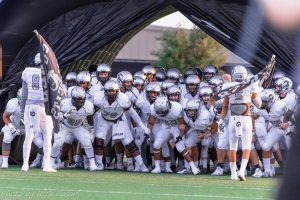 Here are the results of Thursday night's football action:
Marcus finished the regular season at 9-1 with a 34-31 victory over the Plano Wildcats, sealing the win with a field goal with 26 seconds left on the clock. CJ Respass rushed for 99 yards on 26 carries. Mitch Cason passed for 363 yards with 3 TD's and 0 interceptions. The Marauders have a bye week for the final week of the regular season and will play their first playoff game in two weeks.
The Argyle Eagles made it six straight wins as they annihilated Dallas Pinkston 70-0 at Wilmer-Hutchins Stadium. Argyle will meet undefeated Sanger next Friday night in Argyle for the District 6-4A Division 1 title.
Guyer defeated Keller Timber Creek 52-14 to stay in the hunt for a district championship. The Wildcats will clash with undefeated Denton Ryan in an epic matchup next Friday.
Liberty managed only one touchdown, falling 48-7 to Prestonwood Christian. The Warriors will face John Paul II at home next Friday for their final regular season game of the season.
Lewisville fell to McKinney Boyd, 42-31 and are eliminated from playoff contention. The Farmers face Plano High School next Friday.