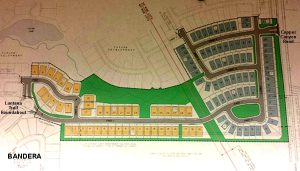 Clearing operations are scheduled to begin Monday for Lantana's newest subdivision, Barrington Addition, Phase A.
The neighborhood will be located at the north end of Lantana Trail adjacent to the roundabout and will connect to Copper Canyon Rd.
The first phase will consist of 120 lots and is currently scheduled to be completed late next spring.
Highland Homes will be one of the home builders in Barrington. There will be a combination of 50-foot and 60-foot lots similar to the Bandera and Kendall subdivisions where Highland is currently building.
Carrollton-based GM Construction TX has been awarded the construction contract for Barrington Addition, Phase A.