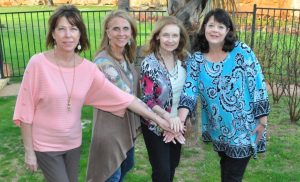 The care of a community can really be a force that fosters an enriched experience for residents.
It's the whole, "It takes a village," mantra, and four southern Denton County business women are picking up that torch.
D&D Collectibles, Extravaganza, Celebrations & Invitations and Carol's Cards & Gifts are together hosting The Power of Four. The event, this Friday and Saturday, September 18-19, benefits Journey to Dream, a charity that Extravaganza owner Dana Bondar said you can't put a price tag on.
"It's a really, awesome, awesome charity," she said.
Journey to Dream helps homeless teens in the area. More information can be found at www.journeytodream.com.
"I had no idea that we had homeless teens in Flower Mound or Highland Village," Bondar said.
The Power of Four event will raise money by donating 10 percent of all sales to Kyle's Place, a local division of JTD.
Bondar said the idea for the fundraiser started with Pat Kipp, owner of D&D Collectibles. She got the four ladies together and they decided to help raise money for local charities.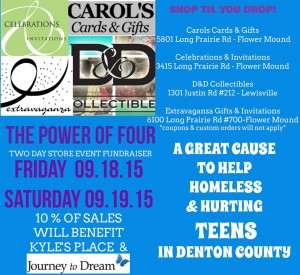 In spring, donations went to Denton County Friends of the Family, to provide services to those impacted by relationship violence and sexual assault. In fall, they are hosting a kids' book drive benefiting Title I schools. Future charities the ladies hope to work with include The Cure Starts Now and the Humane Society.
All four boutiques sell gift items, but have their own specialties. The shops are normally in competition, but not this time.
"It also helps our community," Bondar said. "It's the small businesses that do this kind of stuff.
As for criteria, the four want the charities they raise funds for to work with the immediate community. They also what to help out those who normally contribute to charities get something out of it.
So you buy a candle or a set of notecards, and 10 percent of the cost goes to Kyle's House.
"That's what we're passionate about," Bondar said.
WHERE TO SHOP:
D&D Collectibles – 1301 FM 407 #212, Lewisville
Extravaganza – Highlands Ranch Shopping Center, 6100 Long Prairie Road #700, Flower Mound
Celebrations & Invitations – 3415 Long Prairie Road, Flower Mound
Carol's Cards & Gifts – 5801 Long Prairie Road, Flower Mound