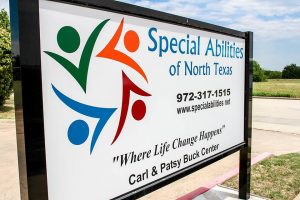 The CoServ Charitable Foundation is providing a $15,000 emergency grant to help a North Texas nonprofit recover from a recent break-in.
Special Abilities of North Texas in Lewisville was targeted this week by thieves who stole a 24-passenger bus and a small van along with electronics, silent-auction items and more.
Officials with the nonprofit that serves people with special needs and developmental disabilities estimated losses totaled between $50,000 and $60,000.
Troy Greisen, president and CEO of Special Abilities, said he was very thankful for CoServ's assistance.
"This is amazing, incredible news for us," he said. "I can't tell you how much this means to us and how it will help turn a big negative into a major positive."
Since 2003, CCF has distributed nearly $7 million in grants to more than 200 nonprofits, civic organizations and social service agencies in over 55 North Texas communities. Funds come from Operation Roundup—a program which rounds CoServ Members' and Customers' bills to the nearest dollar— as well as Employee fundraisers and other contributions.
"Thanks to the generosity of CoServ Members, Customers and Employees, CCF is set up to meet emergency needs in an immediate way," said Stacia Sims, President of the CCF Board. "We recognized the need to act quickly to assist this organization on its path to recovery."
Special Abilities relies on its transportation to provide field trips for residents ages 18 and older. The organization has been working toward moving into a larger facility to expand its services. The main day-stay facility at 1960 Archer Avenue offers arts and crafts, life-skills training, opportunities to travel via bus to area attractions and daily meals – among many other services.
For details about CCF and its stewardship, including how to apply for a grant and/or make a tax-deductible contribution to the 501(c)(3) not-for-profit charitable organization, visit CoServ Charitable Foundation.