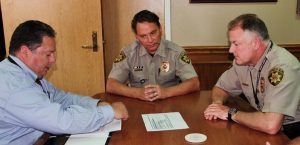 Denton County Sheriff Will Travis and chief deputy Rex George recently accepted a check from the DEA for the DCSO's aggressive investigation of criminal organizations distributing controlled substances both in North Texas and throughout the United States.
Denton County investigator efforts led to a significant seizure of assets obtained through drug trafficking enterprises. The check, for $312,572,  is the DCSO's share of forfeited assets. The funds were collected by authorities from criminals involved in drug crimes.
Travis led the fight in the Texas Legislature against the manufacture and distribution of synthetic cannabinoids, often known as K2 or Spice. These drugs, which are often confused with marijuana, give kids and adults the illusion of safety when, in fact, they are extremely dangerous drugs.  K2 and Spice are not the equivalent of marijuana and have resulted in deaths and serious brain injury and coma in some cases to both youth and adults alike.
Travis's work in support of SB 172, SB 173, and his writing of SB 461, resulted in the addition of penalties for the sale and packaging of chemicals commonly used in the manufacture of synthetic cannabinoids.  His efforts have not only brought attention to this issue but also demonstrate his dedication to combating drugs in Denton County and the State of Texas.
"I would like to express my appreciation to all the officers involved in these efforts for their excellent work and professionalism and their contributions to the overall team effort to keep our kids and our county safe," Travis said. " These men and women are outstanding representatives of the Denton County Sheriff's Office.
"We are more than happy to use drug dealers' money to provide programs and equipment, and supplement the budget of the sheriff's office which increases our ability to be fiscally responsible for the citizens of the county."
This post was taken largely from a press release by Sandi Brackeen, public information officer for the Denton County Sheriff's Office.