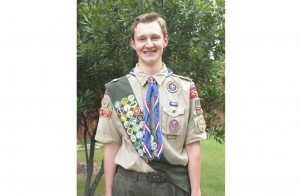 A Guyer High School graduate was recently awarded by the Boy Scouts of America for his work creating a way for youngsters to learn the names of the 50 United States.
Andrew Rieder, son of Colette and Michael Rieder of Lantana, earned an Eagle Scout Award for mapping out the states in color code for the pupils at E.P. Rayzor Elementary School. Andrew is a member of Troop 99, sponsored by the Rockpointe Church in Flower Mound. The group meets at E.P. Rayzor Elementary.
So, for his project, Andrew decided to give back to the school he attended as a kid.
"I chose to create a map of the United States on a cul-de-sac behind the school, so the students could learn the 50 states using playground games in a fun way using the map," Andrew said. "This involved laying a map template out on the pavement and painting the map with multiple layers of paint. There were multiple colors used for the states, and each state was labeled for the students to see and learn."
With the help of the Lantana Educational Grant Foundation and the Denton ISD, Andrew got funding, purchased the materials for the map, and organized work parties for the cleaning and placement of it. With the help of volunteers from Troop 99, family and friends, he was able to complete his project last October.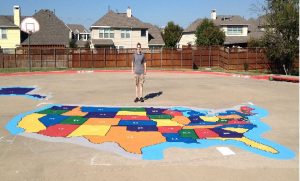 Now that he has been awarded the Eagle Scout rank, Andrew has earned 27 merit badges and the Den Chief Service Award. He also has served as Jr. Popcorn Kernel plus other various leadership positions, and has participated in countless weekend outings and community service.
Andrew started as a Tiger Cub Scout with Pack 408 in Watauga, and moved to Pack 802 of Lantana, where he advanced through the ranks and earned his Arrow of Light Award. Andrew, 18, attended John H. Guyer High School and graduated as salutatorian in June.
As a member of the National Honor Society, he finished in the top 2 percent of his class and has earned the AP Scholar with Distinction. Andrew plans to attend the University of Texas at Austin and will major in Computer Science.