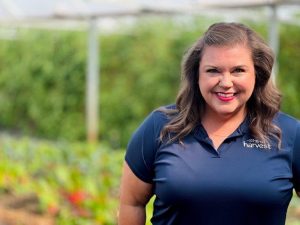 Our beloved Texas Rangers are in the World Series and we couldn't be more excited about it! We have several residents that are affiliated with the Texas Rangers, including a former Texas Rangers shortstop who played in 1984!
Did you also know that Harvest neighbor and owner of Hurtado Barbeque, Brandon Hurtado, recently opened up for business at Globe Life Field? This is a big deal as he is the first local eatery to have a full-time, permanent spot at the ballpark. Cooking for thousands of people in a short time frame is no easy feat, but Brandon and his wife Hannah are knocking it out of the park! They are also the first EVER Official BBQ Restaurant of the Texas Rangers. "It's a huge blessing, especially to be from North Texas and to start here in Arlington and to end here in Arlington in the ballpark…it's insane," said Brandon.
His Harvest family loves his food and loves watching him do this thing at Globe Life Field. In fact, when Brandon threw out the first pitch, you could hear Harvest neighbors in the stands chanting his name. Brandon even created a special menu item just for the World Series. It's called (Jonah) Heim Hammer. It's a massive beef shank, slow smoked and glazed with local sweet habanero BBQ sauce. You can only get this at Globe Life Park!
We are rooting for the Texas Rangers and hope they can clinch the World Series! Alright Ranger fans let's hear it, LET'S GO RANGERS!!!