Southern Denton County residents attended a public meeting Monday evening to learn more about a proposed expansion of FM 407 from Bartonville to Justin.
The Texas Department of Transportation held the public meeting to provide details and solicit public feedback about the proposed project which would widen the existing two-lane rural road to a six-lane, urban divided highway for about 12 miles, from Bill Cook Road west of Justin to FM 1830 at the Argyle/Bartonville border. It would include pedestrian and bike accommodations, according to a TxDOT news release.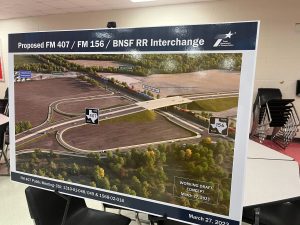 Currently, FM 407 makes several sharp turns between Northlake and Justin, and it joins with FM 156 for a few blocks in Justin. The proposed route would include a new route that cut out those sharp curves and traffic lights on FM 156. The proposed right-of-way is generally 140 feet wide, totals 121 acres and would potentially displace six residences.
TxDOT says the project aims to improve safety, mobility, access and traffic operations, and it is needed to address population and economic growth, regional transportation demand and system linkages in the area. According to TxDOT information provided during the meeting, the department will begin an environmental assessment now, and it hopes to finalize the design by spring 2024. After many more steps in the planning process, TxDOT is anticipating the project will be ready to let (open the bidding process for contractors) around fall 2028, though the schedule is subject to change.
The expected construction cost of the project is about $235 million. The project is currently unfunded.
The same information that was presented during the public meeting is now available in a virtual meeting through 11:59 p.m. April 11, and public feedback can be submitted at that link, to jordan.[email protected], in a voicemail to 940-373-1286 or by mail to:
TxDOT Dallas District Office
Attn: Jordan Mrayyan, P.E.
4777 East Hwy 80
Mesquite, TX 75150