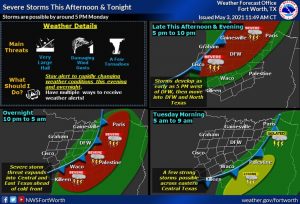 UPDATE (10:30 p.m.): The Tornado Watch has been dropped, but a Severe Thunderstorm Watch has been issued until 3 a.m. for Denton County. Storms overnight could produce quarter size hail and winds in excess of 60 mph.
A Tornado Watch was in effect through 10:30 p.m. Monday, according to the National Weather Service. A few tornadoes were possible, along with damaging winds up to 80 mph and hail as large as softballs. No damage was reported in southern Denton County as of 10:30 p.m.
A cold front will pass through overnight, bringing a chance of more rain through the overnight hours.
Follow us on Twitter for  updates.